Concerns over local planning and housing issues could be the deciding factor in a number of swing seats tomorrow - here are some to watch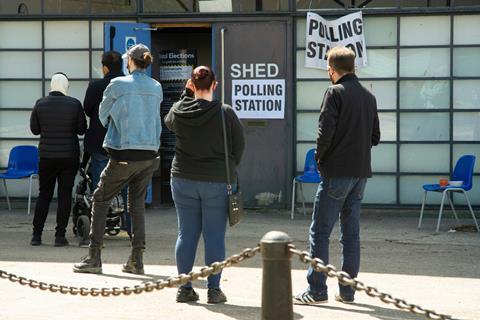 Voters across much of the UK go to the polls tomorrow in local elections which are widely expected to deal a punishing blow to the Conservative party. Polling has predicted a 5% swing to Labour following months of torrid headlines for the Tories, with illegal lockdown parties in Number 10, a perceived failure to combat the cost of living crisis and a swathe of good old-fashioned sleaze scandals all factors which are putting momentum behind opposition parties.
But, while many voters will want to see the government humbled when they enter the polling booths tomorrow, planning and housing issues are also shaping up to play a key role in a number of closely fought local authorities. Tomorrow's result will potentially decide the future of some major construction schemes both in London and across the country.
In the capital, Labour is targeting the Tory-held boroughs of Wandsworth and Barnet. In the former, Labour has been campaigning on a 50% affordable housing target and a commitment to resident ballots on all estate regeneration projects. Major schemes in the borough include Taylor Wimpey's regeneration of the Winstanley and York Road estate, which is scheduled to see the completion of the third of six phases next year.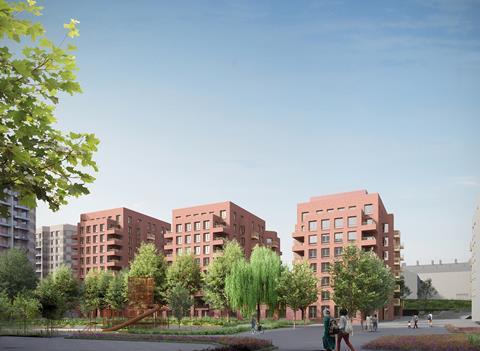 The focus on affordable housing may prove popular amid rising household bills, but lower taxes offered by the Conservatives make this result hard to predict. "With the cost of living crisis set to be at the forefront of many voters' minds, Labour's focus on affordable housing may well be popular," Felix Shaw of political consultants Field Consulting says. "But don't discount the power of the Conservative administration's track record keeping council tax low as a counterbalance."
In Barnet, the Conservatives' unpopular plans for dense developments around transport hubs are one of the factors in play. Labour, which is hoping to take outright control of the borough for the first time, is campaigning for affordable family homes rather than tower blocks.
> Also read: Whatever happened to those radical planning reforms?
But Transport for London's proposals to build homes on local station car parks could limit Labour's success in this highly car-dependent borough, given the plans are being backed by the Labour-run Greater London Authority.
Other results to look out for include Haringey council, where a major 3,000-home scheme next to Tottenham Hotspur FC's stadium was recently deferred by the council because of concerns about crowd control. The future of the Lendlease development, designed by Studio Egret West, could be thrown into doubt if a backlash from voters results in a new planning committee which is hostile to the scheme.
Other planning rows in the capital include two schemes designed by architect AHMM - controversial proposals to build 1000 homes on the former site of the Holloway women's prison in Islington, and a 37-storey tower in Southwark which Historic England has warned will cause "serious harm" to the neighbourhood. Both of these could be impacted by tomorrow's result.
The result will be an interesting indicator of where wider views lie in this part of the commuter belt

Felix Shaw, Field Consulting, on the vote in Basildon where the Conservatives opposed high-rise development in the town centre
Outside the capital, Labour have a range of towns in their sights including "red wall" areas in the North and Midlands. The party is also targeting the South-east commuter town of Basildon, which was taken by the Conservatives last year from a Labour and independent coalition.
The Tories campaigned on a promise of withdrawing the authority's local plan, which they said contained too much high-rise development in the town centre and would create a "ghetto for the future". This has been criticised by Labour, which said the Conservatives had not come up with an alternative plan to provide new services that would have been included with the regeneration, while others have argued the borough is now exposed to speculative developers.
"The result will be an interesting indicator of where wider views lie in this part of the commuter belt," Shaw says.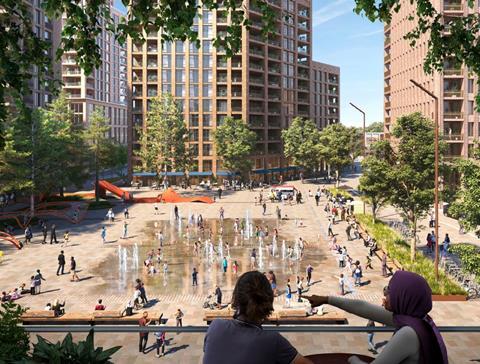 Meanwhile, in Sheffield, the Green Party is eyeing an opportunity to introduce radical reforms to local planning policy which could be considered in other parts of the country. The party, which went into coalition with Labour last year, has called on developers to take more action on reducing carbon emissions in new developments.
Proposals include requiring developers to specify in planning applications how they would reduce energy demand in new buildings, what local and low carbon materials they will use and how the development will protect nature.
Green councillor Angela Argenzio said in December that the policy would "highlight and promote the very best practice of developers locally and also shine a light on those builders who are doing the bare minimum".
Last year's elections also included a referendum in the city which committed the council to switch to a cross-party committee system, which gives opposition parties a greater say over planning and housing. Labour may attempt to water this down if it can regain control, but the Greens could gain more influence over planning and housing policy if they are returned with greater representation.
More than 200 local battles will be played out tomorrow, but the common denominator across all regions is the rising cost of living. The Conservatives' traditional offering of lower taxes may temper the anger which many feel about the government's track record in recent months.
Secretary of State Michael Gove also announced plans last month to axe Section 106 rules in favour of a new infrastructure levy paid to local authorities to allow the construction of more social housing.
Gove has badged this controversial move as aiming to create a council housing "explosion". Clearly, the government is scrambling for ways to limit the losses at their elections, and they could still defy the pollsters. Either way, developers and architects will want to keep a close eye on tomorrow's results.