Election manifesto promises 100,000 new housing association and council homes a year - and universal Passivhaus by 2025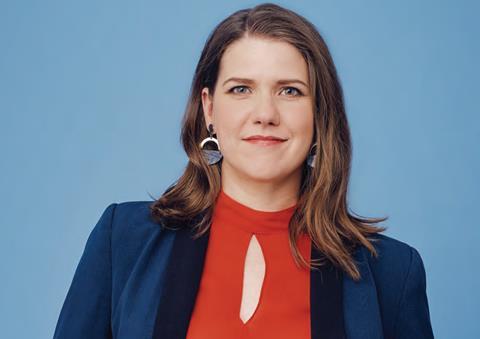 Promises to deliver 100,000 social-rent units a year and require all new homes to reach Passivhaus standards from 2025 feature in the Liberal Democrat Party's manifesto for next month's general election.
The pledges are part of a £130bn package of infrastructure investment that also includes a commitment to build 300,000 homes a year and press ahead with the delivery of HS2 and Crossrail 2.
Readers of the party's 100-page Stop Brexit, Build a Brighter Future blueprint will be under no doubt about the pecking order of its priorities. However the housing delivery proposals would represent the kind of step-change experts have long argued is the bedrock for dealing with the nation's current crisis.
Official Ministry of Housing, Communities and Local Government (MHCLG) statistics on affordable housing supply published yesterday said just 6,287 new social rent homes – typically a local authority or housing association-owned property offered at a significant discount on market rates – were completed in the year to March.
The figure is a subset of 2018-19 affordable housing delivery, which includes a range of subsidised housing including shared-ownership properties. The total "affordable housing" completions were reported as 57,485 units for the year, a figure which includes 29,135 "affordable rent" homes – properties that can cost their tenants up to 80% of market rates.
The Lib Dem manifesto accused the Conservative Party of effectively triggering the current housing crisis with Margaret Thatcher's Right to Buy drive in the 1980s – and said the party would effectively devolve power to local authorities to make their own rules on the future sale of council-owned property.
"The Conservatives, looking back to the 1980s, have tried to solve the problem of unaffordable homes by extending Right to Buy, but that has only served to deplete stock and deepen the crisis in social housing," it said.
"Liberal Democrats are looking to the future and will oversee a substantial building programme to ensure that everybody has a safe and secure home."
The manifesto said a Lib Dem administration would establish a new "Rent to Own" scheme for social housing where rent payments gave tenants an increasing stake in the property, allowing them to own it outright after 30 years. The party is also proposing a "Help to Rent" scheme to provide government-backed tenancy deposit loans for all first-time renters under 30.
As part of its carbon-reduction and energy-efficiency drive, the party said it would require all new homes and non-domestic buildings to be built to a zero-carbon standard by 2021, "rising to a more ambitious Passivhaus standard by 2025".
Other housing pledges included allowing local authorities to increase council tax by up to 500% where properties are bought as second homes, and placing a stamp duty surcharge on overseas residents purchasing such properties.
Party leader Jo Swinson said leaving the European Union was not the answer to the nation's problems and would only make them worse.
"This election gives us the opportunity to transform our country and create a brighter future," she said.
"Our politics is in a state of flux, and this general election could lead to seismic change out of which a new and different politics can emerge."
MHCLG's affordable housing dataset, published yesterday, gave affordable housing data going back to 1991-1992, when 25,705 additional social rent properties were added to the stock in England.
Social rent homes dominated the affordable housing statistics in the early years of the dataset, but "affordable ownership" models became a growing part of the numbers throughout the New Labour years. Affordable rent has grown to dominate the figures since 2011-12, while "shared ownership" has chipped away at affordable ownership.
According to the figures,1995-96 saw the largest number of affordable homes delivered in England – a figure of 74,530 units, of which 56,949 were social rent and 17,581 "affordable ownership".