Shortlisted practices include O'Donnell & Tuomey and Cullinan Studio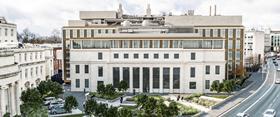 O'Donnell & Tuomey, Reiach and Hall Architects and Cullinan Studio have all been shortlisted to design a new student hub at Leeds university.
The three have been joined on the five-strong shortlist by Nicholas Hare Architects and Matlock practice Evans Vettori Architects.
The hub is earmarked for the university's western campus and will include teaching and learning spaces.
Organised by RIBA Competitions, the contest will next see the five present their ideas in the middle of October.
Julia Bennell, deputy dean of the Leeds University Business School, said: "The response to the competition was outstanding with a large number of strong contenders, which we believe reflects the uniqueness of this opportunity to create an innovative and sustainable space for the University of Leeds students."
The university has been revamping its estate over the past few years with work taking place at 19 different sites in the city in order to provide an extra 80,000sq m of space.
Bam is already on site with a £96m deal for the Sir William Henry Bragg building (pictured) designed by ADP.
The shortlist
Cullinan Studio with Turkington Martin
Evans Vettori Architects with Re-Form
Nicholas Hare Architects with Fabrik and Hesketh Hayden Architects
O'Donnell & Tuomey with Dermot Foley
Reiach and Hall Architects with rankinfraser and rtu. rob thompson urbanism