Both Houses would be decamped to a site behind the Ministry of Defence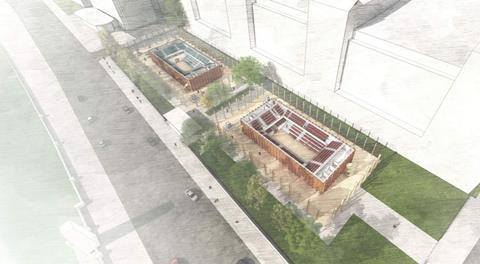 Ian Ritchie has unveiled a low-budget proposal to relocate the Houses of Parliament into two temporary buildings during renovation works at the Palace of Westminster.
Under the speculative plan, both the House of Commons and the House of Lords would be moved to a site behind the Ministry of Defence on the banks of the Thames at a cost of £55m.
Ritchie said the temporary buildings, which would feature coffered CLT ceilings, would use the same construction techniques used by the practice for the Royal Shakespeare Company's £6m temporary Courtyard Theatre in 2006.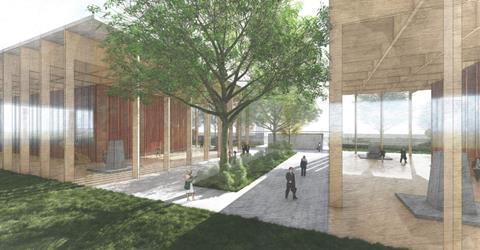 Alternatively, the architect said both Houses could decamp to the University of Oxford, with the House of Commons sitting in the Bodleian Library's medieval Divinity school, built in 1483, while the Lords could sit in the connected 17th century Convocation House.
Parliament has sat in the two venues on several occasions during the reigns of Charles I and Charles II, twice to avoid outbreaks of the plague in London and once during the English Civil War.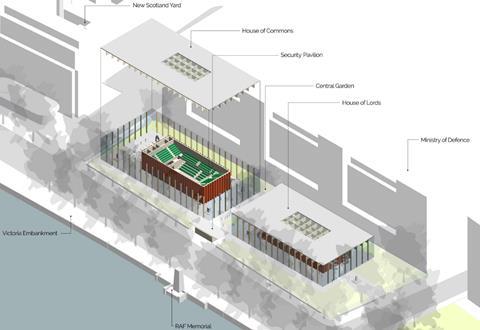 It comes as the government looks for ways to slash the cost of BDP's previously approved £4bn restoration and renewal programme to bring the crumbling Palace of Westminster up to modern standards.
As part of BDP's proposals, AHMM lodged a planning application in November for a controversial solution which would see the grade II*-listed Richmond House on Whitehall partially demolished to make way for a temporary Commons chamber.
Architects are currently scrambling to suggest cheaper alternatives, with Foster & Partners proposing a £300m glass dome on Horse Guards Parade which some have likened to a giant jelly mould. Hopkins has also suggested using its Portcullis House, while Mark Hines came up with a plan using just the courtyard of Richmond House.
Ritchie's plans have secured the backing of Save Britain's Heritage which is campaigning with the Twentieth Century Society to save William Whitfield's Richmond House. The group's director Henrietta Billings said that, compared to other proposals, Ritchie's ideas are "less destructive, cheaper and more realistic given the transformed circumstances we find ourselves in since the temporary chamber proposals were first commissioned".