Sponsor body asks architect to resubmit Horse Guards design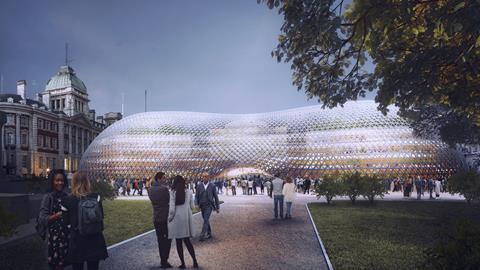 A proposal by Foster & Partners to create a temporary Parliament on Horse Guards Parade is back on the table three years after it was ruled out for security reasons.
It would see a striking semi-transparent glass dome erected in 28 months on the parade ground which hosted the beach volleyball during the London Olympics, between Downing Street and St James' Park.
Norman Foster is reported as saying the proposal - which some say resembles a giant jelly mould - would "celebrate British ingenuity with a solution that captures people's imagination".
The news comes as the government looks for ways to slash the cost of the previously approved £4bn restoration and renewal programme to bring the crumbling Palace of Westminster up to modern standards.
At £300m, Fosters' scheme would tick that box. It would also allow MPs to be decanted three years faster than under BDP's proposals which require a temporary Commons chamber to be created in Richmond House on Whitehall. AHMM submitted that piece of the jigsaw for planning in November.
Fosters was shortlisted for the renewal and restoration project in 2015, along with with Allies & Morrison and HOK, but two years later BDP was declared the winner. The Parliamentary authorities are believed to have had security concerns about Foster's idea, dreamt up with former British Land chief John Ritblat.
However, according to a report in yesterday's Sunday Times, the body in charge of restoring the Palace of Westminster wrote to Ritblat and Foster last month asking them to resubmit it. It would be costructed from bomb- and bullet-proof glass and steel.
Foster was quoted as saying: "It saves a huge amount of money and time and is reusable. It showcases what we can produce as a nation.
"Everyone regards the relocation of Parliament as a huge problem, but it also presents an incredible opportunity and I can't see any downsides to our proposal. Horse Guards is next to 10 and 11 Downing Street and is far more secure than Richmond House."
He added: "We think that, rather than a costly embarrassment, there is the potential here to create a uniquely great British solution that will enable the MPs to decant from the Palace of Westminster more than 36 months earlier.
"The sustainable solution we propose will not leave any permanent scars on the historic fabric of London and could be reused and relocated anywhere.
"Much like the Great Exhibition did in 1851, we think that this is a great opportunity to celebrate British ingenuity with a solution that captures people's imagination."
Doubt was first cast on BDP's proposals earlier this year when a new sponsor body was appointed under the direction of Sarah Johnson. But it is believed to be Boris Johnson himself – along with Jacob Rees-Mogg – who demanded the re-think. They believe the idea that politicians are spending money "on themselves" would be politically unpopular.
The saga of the Palace of Westminster's repair and upgrade has been dragging on for years. It has been estimated that every year of delay costs the taxpayer £100m in ad-hoc repairs.
In January Foster called on the government to launch an architectural competition to design a new House of Lords complex in the north of England. However that option has now been ruled out.
It is not clear whether Commons and Lords chambers would fit in the Horse Guards scheme but offices and dining rooms are part of the plan. Under BDP's proposal, peers would temporarily move to Powell & Moya's Queen Elizabeth II Conference Centre opposite Westminster Abbey.