Conservationists request meeting with Parliament to present Mark Hines' alternative to AHMM scheme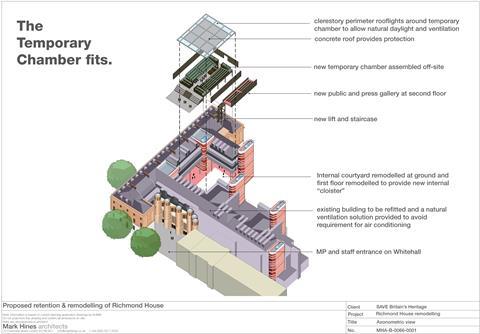 Conservation campaign group Save Britain's Heritage is to seek an early meeting with the body conducting the review of Parliament's refurbishment.
It is attempting to capitalise on yesterday's announcement that BDP's £4bn restoration and renewal plans are to be subject to a fundamental review which also casts doubt on the future of AHMM's part of the jigsaw, a temporary Commons chamber on the site of Richmond House on Whitehall.
The campaigners are keen to present their alternative proposals for a temporary House of Commons which have been drawn up by architects including Mark Hines and Hopkins and which they say could save £500m.
Save's two alternatives propose either creating a temporary Commons chamber in the courtyard of Richmond House – designed by Hines – or placing it within Portcullis House – designed by Hopkins.
Crucially for conservationists, both would protect Richmond House from the significant level of demolition necessary for AHMM's official proposal which was submitted for planning in November.
Yesterday the newly established client sponsor body announced a root-and-branch review of the £4bn project drawn up by BDP in 2016. Sponsor body chief executive Sarah Johnson said she wants to re-examine the evidence behind the decision made five years ago to opt for a "full decant" in which MPs and peers would move out completely during the works. This has also thrown AHMM's temporary chamber into uncertainty.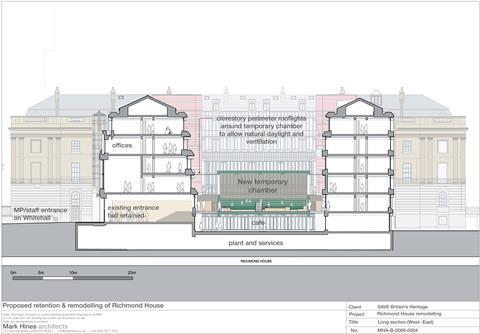 Henrietta Billings, director of Save Britain's Heritage, said rethinking AHMM's plan was "plain common sense", both in financial and carbon emission terms.
She said Mark Hines' proposal to build the temporary chamber in the grade II*-listed building's main courtyard would be at least £500m cheaper than AHMM's plans which she also said would release 25,000 tonnes of carbon dioxide into the atmosphere through demolition of much of the existing fabric.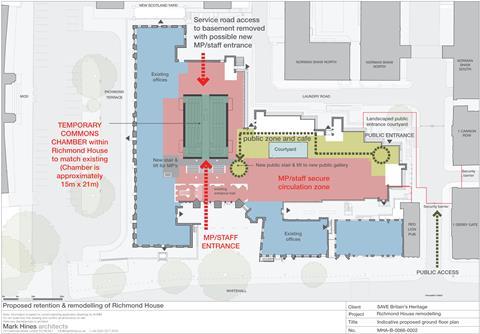 "Re-using and retrofitting more buildings like Richmond House is vital if we are to meet new carbon targets by the middle of this century," she said.
"Save will seek an early opportunity to meet the review team and present the alternatives we have prepared notably with Mark Hines architects."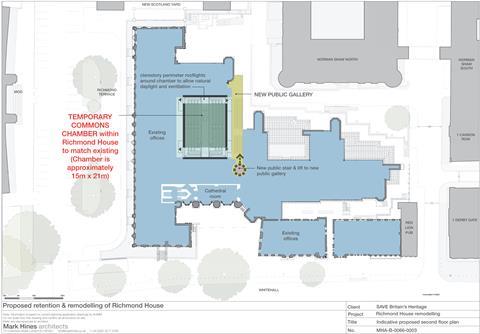 As well as Hines' proposal, which was published in January, Save was behind an earlier 2018 proposal by Michael Hopkins to locate the temporary Commons chamber in his practice's Portcullis House.
Other suggestions have included using decommissioned Woolwich ferries as a temporary floating "Houseboat of Commons". The proposal by Studio Octopi, Expedition Engineering, marine engineer Beckett Rankine and naval architect Houlder to work up the plans, which was costed at £55m by Jackson Coles and given security approval by consultant Securewest, was dismissed by MPs.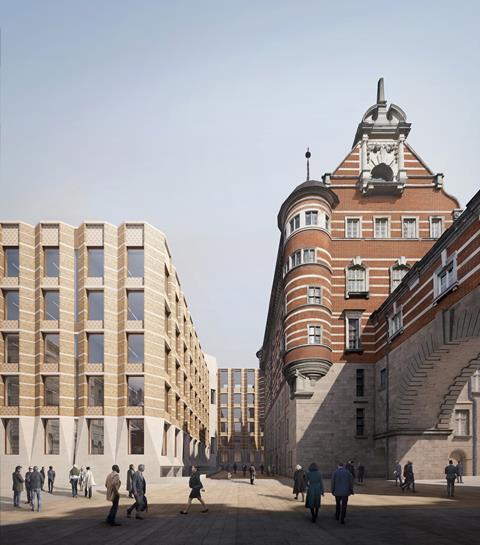 Marcus Binney, Save's executive president, said of the review: "We are delighted that common sense has prevailed. Huge amounts of public money are at stake and now at last there is a proper opportunity to look at simpler, cheaper and less destructive ways of providing temporary accommodation for MPs and peers.
"Save has led the way in calling for a rethink and asking Parliament to consider alternatives to the needless destruction of Richmond House, a grade II*-listed building built to endure."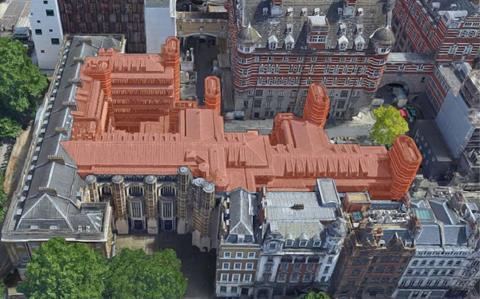 The Twentieth Century Society has also been vocal in opposing the demolition of William Whitfield and Andrew Lockwood's former Department of Health building on Whitehall, with director Catherine Croft dubbing it a philistine act.
And in a letter to the Times, members of the Cathedral Architects Association said the removal of all but its façade was "needlessly destructive".
Mark Hines Architects' proposal
The Save-backed proposal for a temporary chamber would have:
- the same size and layout as the present Commons chamber
- the same number of seats plus wheelchair provision
- public and press seating at gallery level
- circulation and lobby space
- new separate secure entrances for both MPs and the public from Whitehall
- a blast proof structure which meets security criteria
Mark Hines, principal at Mark Hines Architects, said: "In an age of climate crisis, the retrofitting of Richmond House is an extraordinary opportunity for our government to demonstrate its commitment to the country in a very public manner, what can be done by transforming one of their very own buildings into a landmark low-energy building of national importance.
"Reusing buildings like Richmond House will save thousands of tonnes of carbon emissions and is crucial if we are to meet the government's near-zero carbon target by 2050. Put simply, we can't afford not to."