All major elements of "minimalist" 880m-long bridge to be manufactured offsite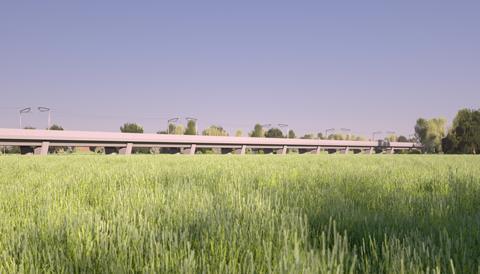 HS2 has unveiled the final designs of an 880m-long bridge designed by Moxon Architects that will be almost entirely built with prefabricated components.
All major sections of the Thame Valley viaduct will be manufactured off site and "slotted together like a giant Lego set", the £100bn railway project has said.
HS2 said the approach, which has been inspired by recent high speed rail projects in Spain, would cut carbon during construction by as much as two thirds.
The bridge will carry trains travelling at speeds of up to 360km per hour over the flood plain of the River Thame, just outside Aylesbury.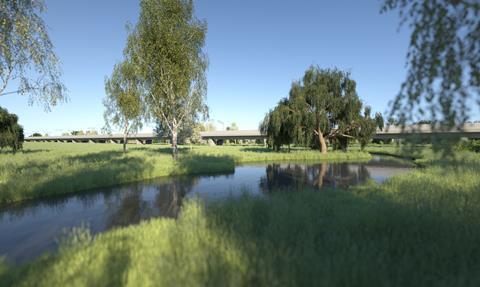 Described by Moxon as a "minimalist elevated causeway", it will be set low into the landscape with the underside of the structure just 3m above the ground.
Consisting of 36 even spans, each 25m-long, it will be built by assembling its modular pre-cast beams directly against each other.
This differs from traditional bridge construction, which involves securing the beams using a concrete diaphragm which is cast in situ.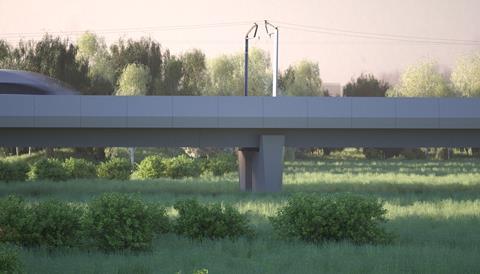 Moxon managing director Ben Addy said the design has been "enabled by the advanced engineering and construction techniques" developed by the project team. "The result is a low key and elegant sequence of spans punctuated by thirty-four pairs of piers cradling the deck," he added.
The lighter-weight structure is expected to save around 19,000 tonnes of embodied carbon compared to previous designs for the bridge, according to HS2.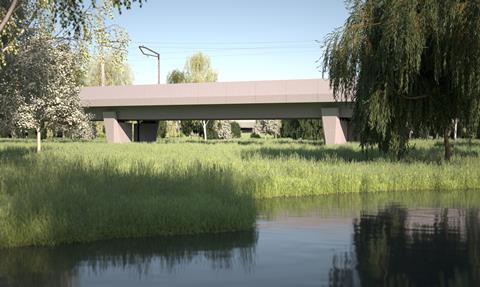 The scheme's main contractor EKFB - a joint venture between Eiffage, Kier, Ferrovial and BAM Nuttall - said the process of cutting carbon started at the initial design stages.
"Working alongside our design partners, we have tackled the carbon challenge from two angles," the firm's technical director Janice McKenna said.
"The structurally efficient solution means we minimise the embedded carbon in the viaduct materials, and we have also been able to reduce emissions during construction by maximising off-site prefabrication to achieve an efficient build, as well as reducing the number of HGVs on local roads."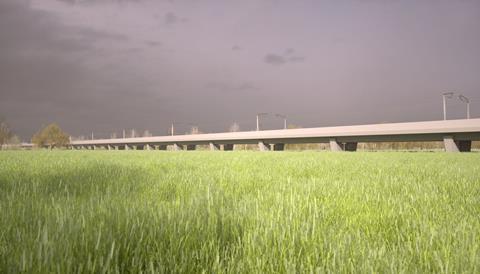 The Thame Valley viaduct is one of 15 bridges designed by EKFB as part of HS2's route, which stretches from London Euston to Manchester.
The longest, the 3.4km Colne Valley viaduct, will also be the UK's longest rail bridge when completed and will carry passengers between a pair of tunnels beneath central London to the 16km long Chiltern tunnels near the M25.
Unlike the bridge over Thame Valley, the Grimshaw-designed Colne Valley viaduct will consist of a series of spans of different lengths with some nearly 80m long.