Allies & Morrison, FCBS and Arup among firms calling for amendment to Building Regulations
Proposals to put legal limits on embodied carbon in construction projects have been backed by a group of industry heavyweights including Allies & Morrison, Feilden Clegg Bradley Studios and Arup.
The proposals would see an amendment made to the Building Regulations setting mandatory limits for upfront carbon emissions on all building projects over 1,000sq m from 2027.
The amendment, known as Part Z, would also mandate construction firms to assess and report on whole life carbon on all non-residential building projects over 1000m2 from 2023, and residential projects from 2025.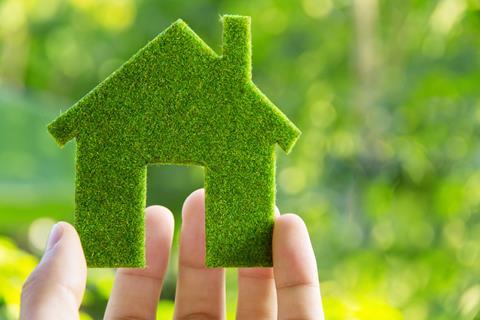 Arup UK net zero buildings leader Chris Carroll said "firm, supportive legislation" is needed to set out a clear requirement to measure, report and reduce carbon to aligned targets.
The group of 18 signatories also includes RIBA, developer Grosvenor, engineer WSP and contractors Laing O'Rourke and Bam.
Grosvenor executive director for sustainability and innovation Tor Burrows said that embodied carbon had been "hidden" in the built environment for too long.
"With today's call the industry is asking for regulation to ensure that every significant UK development tracks and limits its full carbon footprint.
"We already do this for our large development projects and the time is right to introduce legislation for the whole industry."
The proposals come after the Climate Change Committee published its latest report to parliament on net zero progress.
The June report urged the government to set out plans for phasing in mandatory whole life carbon reporting and limits for all buildings, roads and infrastructure by 2025.
A number other countries have introduced such laws in recent years including the Netherlands and France, and the USA is drafting similar legislation.
But the group of signatories for the Part Z proposals argue that while those countries have needed several years to work out how embodied carbon can be assessed, the UK is in the "unique position" of having most of the tools needed already up and running.
The Royal Institution of Chartered Surveyors' whole life carbon assessment guidance document has been used by the industry since 2017, and a Built Environment Carbon Database is currently being developed to become a key source for estimating embodied carbon in projects.
Joe Giddings, campaigns coordinator of Architects Climate Action Network (ACAN) said: "It's great to see such wide industry support behind the key demand of our campaign to regulate embodied carbon. We called on the government to introduce 'Part Z' back in February, and just six months later this group has now drafted the regulation for them to introduce. It now couldn't be easier for the government to act, and they must act now.
"We proposed a much faster timeline than has been set out in this draft regulation, as we believe it is necessary to introduce strict limits on embodied carbon emissions on all new buildings from 2025 at the latest. We hope in time we'll have the opportunity to engage with this group, and the government, to put our arguments forward for the rapid change that we believe is necessary to mitigate the worst of climate change.
"We will continue to engage with policymakers and have already had some constructive conversations with political parties including SNP and the Green Party, as well as MPs from other parties."
Part Z has been authored by:
Will Arnold, Head of Climate Action at the Institution of Structural Engineers
Tim den Dekker, founder of The Embodied Carbon Group and Associate at Feilden Clegg Bradley Studios.
Simon Sturgis, Sustainability Consultant and founder of the Whole Life Carbon Network
Dr Julie Godefroy, Technical Manager at the Chartered Institute of Building Services Engineers
Dr Jannik Giesekam, Research Fellow in Industrial Climate Policy at the University of Leeds
Signatories:
Allies & Morrison | Arup | BAM Construct UK | Bennetts Associates | Buro Happold |The Chartered Institution of Building Services Engineers | Expedition Engineering | Feilden Clegg Bradley Studios | Grosvenor Britain & Ireland | Hopkins Architects | Laing O'Rourke | Levitt Bernstein | Perkins & Will | The Royal Institute of British Architects | Stanhope | Waugh Thistleton | Willmott Dixon | WSP-UK