Xi'an scheme due to complete next year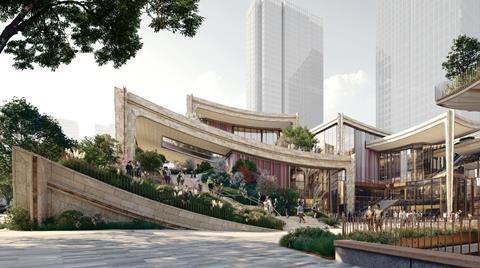 Heatherwick Studio has unveiled a new shopping district in central China inspired by the Terracotta Army archeological site.
The 115,000sq m scheme is located in the city of Xi'an, the home of the 3rd century BC Unesco World Heritage Site.
Currently under construction and due to complete next year, it consists of a series of interlocking blocks which will house retail space, offices, apartments, a hotel and green areas including a rooftop garden and a sunken terrace.
Its buildings will be faced with different patterns of ceramic cladding inspired by the Terracotta Army, the burial site of Qin Shi Huang, the first emperor of China.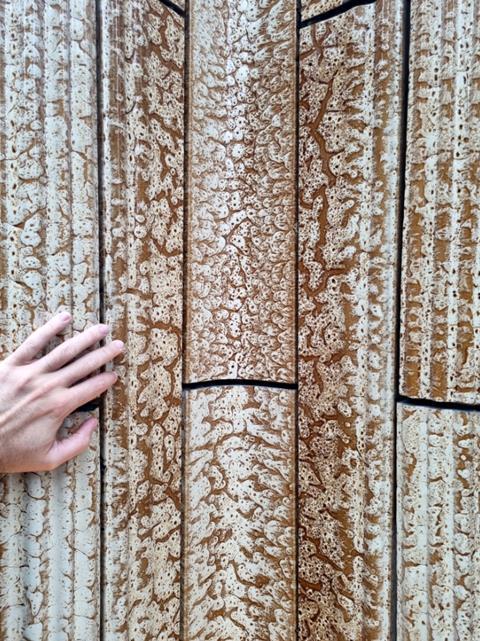 These patterns, created in collaboration with local ceramic makers, aim to add "interest and intrigue" for viewers at a close-up or "door" level distance, one of the design approaches which practice founder Thomas Heatherwick writes about in his newly published book.
In the book, Humanise, Heatherwick argues that buildings should engage viewers from three distances, "door distance", "street distance" and "city distance".
The practice says the Xi'an scheme will look like a new verdant area of the city with a distinctive skyline inspired by the roofs of the city's Chinese temples when looked at from far away, while from a street level it will provide vantage points of the buildings' interlocking frames.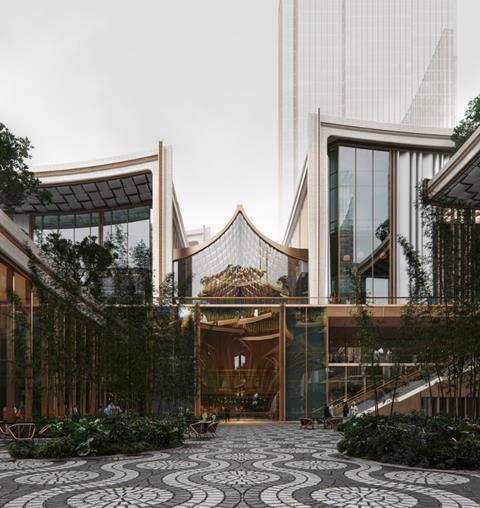 Individual buildings have been inspired by the shape of traditional nesting tables, creating a multitude of different levels for open terraces and gathering spaces.
Mat Cash, group leader and partner at Heatherwick Studio said the new district "explores how we can create variety and a sense of discovery and delight" within a large scale urban development.
"Using natural materials, stepped terraces and an enveloping landscape we can create a city within a city merging retail, residential, office, cultural and leisure uses into one distinct place," he said.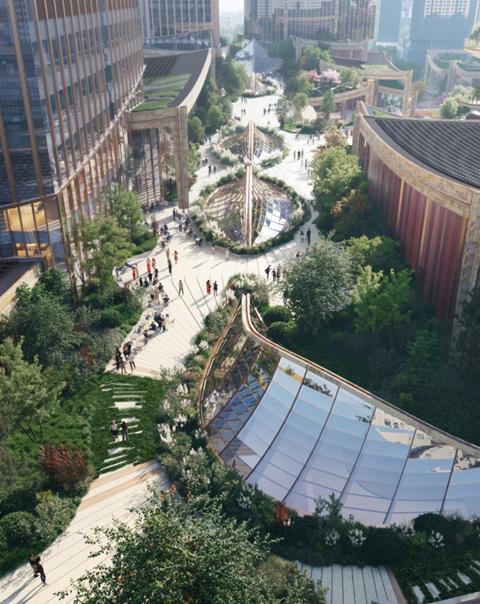 Construction has seen the practice erect large scale visual mock-ups of the scheme's key elements on site, enabling the project team to see the real scale of the buildings as visitors will experience them.
Heatherwick's other projects in China include an exhibition hall in Shanghai inspired by a series of interwoven ribbons and an opera house on the island of Hainan inspired by a volcano.
Last year the studio opened a new office in its 1,000 Trees scheme in Shanghai to capitalise on growing workloads in the region.
Its accounts for the year to March 2022 showed turnover in Asia hit £13.5m, more than half of its revenue and a rise of 52% on the previous year.