Hainan scheme will be studio's first ever music venue project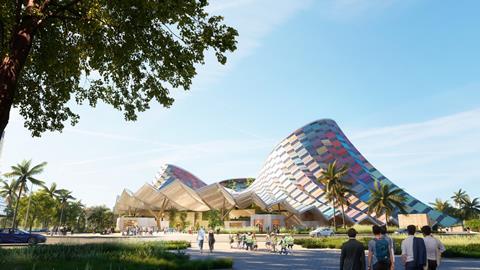 Heatherwick has unveiled its plans for a "tropical opera house" in China which will be the practice's first ever music venue project.
The scheme will be located on the island of Hainan, China's southernmost province and has been inspired by the region's volcanic landscape.
The studio landed the job through a competition organised by Haikou Tourism and Culture Investment Holding Group, with the brief calling for a "cultural landmark" and performing arts centre for Haikou, Hainan's capital and largest city.
Heatherwick's design consists of three performance spaces - an opera house, a concert hall and a theatre - sheltered by a huge brightly coloured canopy that the practice said has been inspired by local opera traditions.
"Our inspiration came from the volcanic landscape and the costumes, colours and movement of Hainanese opera", said Heatherwick partner and group leader Eliot Postma.
He added: "Many opera houses are cut off from their surroundings and only come to life when a performance is on.
"We wanted to create a space that is an extension of the city and will contribute to life on the street throughout the day."
Postma said the spaces housed beneath the canopy will form an "open-air village" with an informal atmosphere which offers "everyone a space to meet whether you have a ticket or not".
The centre, which will have capacity for 3,800 people, is intended to stage international productions that range from large-scale opera, ballet and musicals to avant-garde drama and multimedia performances. It will also include creative learning and rehearsal spaces.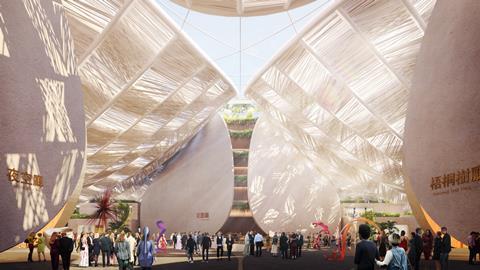 Construction of the main building is scheduled to begin towards the end of this year.
In January, Heatherwick unveiled images of a sports and cultural scheme in Seoul, South Korea. Dubbed 'The Leaf', it resembles a floating, multi-levelled pier with an undulating roof covered in walkable trails and gardens.
In the same month, the practice also revealed it had redesigned a pair of residential towers in Vancouver to reflect post-pandemic living requirements.
Balconies on the 30 and 34-storey blocks were increased in size to provide more accessible outdoor space for people who work from home.