Opening revealed in Heatherwick Studio's latest accounts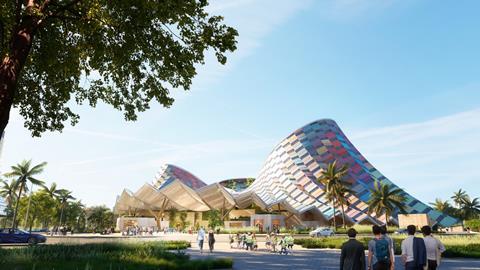 Heatherwick Studio has opened a new office in China to capitalise on growing workloads in the region which last year accounted for more than half of its annual income.
The firm's 2022 accounts filed at Companies House said the practice of founder Thomas Heatherwick has taken out a lease on space within its mixed-use 1,000 Trees scheme in Shanghai.
The accounts show that turnover from Asia hit £13.5m in the year to March 2022 – a rise of 52% on last time – which accounted for 55% of the firm's total £24m revenue, which was up from the £21m it posted in 2021. Pre-tax profit jumped 14% to £3.2m.
Heatherwick, which is also opening a new studio in King's Cross, said that it was bracing itself for a "doubtful debt" provision for "amounts outstanding" on a scheme in Russia after pulling out of working in the country following its invasion of Ukraine in February this year.
The firm, which designed a tree sculpture that stood outside Buckingham Palace as part of this summer's Queen's Platinum Jubilee celebrations, said that work from the UK fell 22% to £3.8m.
The accounts show that during the year the practice was handed an £18m bank loan by Barclays which it said was repayable over 15 years. Interest it said was 1.85% over the Bank of England's base rate which stood at 1.75% in August - a rise of 0.5% on the previous monthly figure.
Heatherwick Studio was also handed a £1m loan by sole director Thomas Heatherwick in May while Heatherwick himself was given a £370,000 dividend last year – down from the £1.4m he picked up the previous year.