Temporary steel and timber structure to be built outside Buckingham Palace in June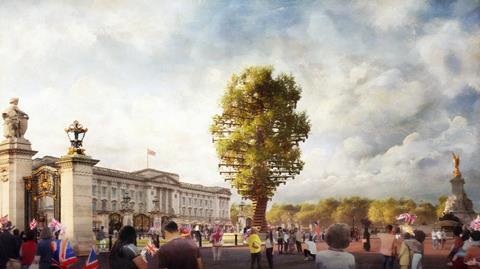 Heatherwick has designed a 21m tall tree sculpture that will be erected outside Buckingham Palace in June for the Queen's Platinum Jubilee celebrations.
The 'Tree of Trees' will house 350 native British trees within a spiralling steel and timber frame, with each tree planted in an aluminium pot embossed with the Queen's cypher.
The sculpture has been supported by financial media giant Bloomberg and has been designed to promote the Queen's Green Canopy, a project aiming to inspire a wave of tree planting across the UK.
After the four-day Jubilee weekend on 2 to 5 June, the trees will be gifted to selected community groups and organisations to celebrate their work and "inspire the next generation of tree planters across the nation", Heatherwick said.
The trees will be stored over the summer ahead of the start of the new planting season in October, with details on the selection process for recipients due to be announced soon.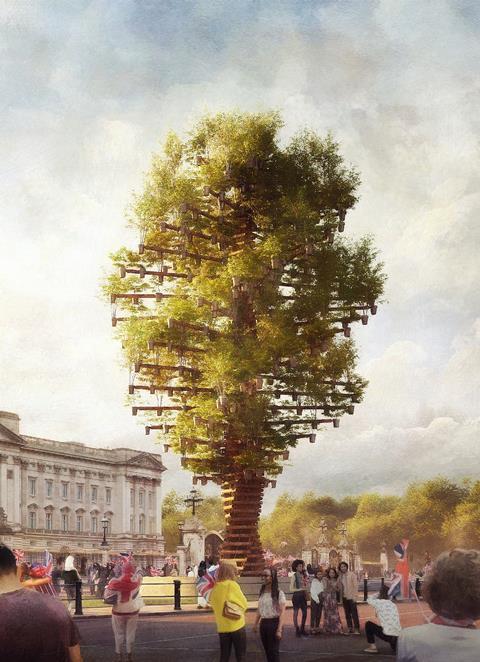 Practice founder Thomas Heatherwick said it has been an "honour" to design the sculpture.
"The structure…is coming together from workshops and nurseries across the country as one part of an incredible community campaign that's literally changing the landscape of our nation," he added.
The sculpture's frame will be made from reclaimed and new steel with materials and skills sourced from UK suppliers.
More than a million trees have been planted so far through the Queen's Green Canopy initiative, which is focusing on increasing greenery and canopy cover in deprived areas.
The project will also dedicate a network of 70 ancient woodlands across the UK and identify 70 ancient trees to celebrate the Queen's 70 years on the throne, during which she has planted more than 1,500 trees all over the world.