Structure features ten glass 'sepals' which unfold on warm summer days
Heatherwick Studio has completed an unfolding 'kinetic glasshouse' at the National Trust's historic Woolbeding Gardens in West Sussex.
The 141sq m structure features ten glass and aluminium 'sepals' which open on warm summer days to let in fresh air for the subtropical plants housed within.
Inspired by Victorian ornamental terrariums, it is the centrepiece of a new garden exploring the history of plants which have arrived in Britain via the silk road.
The garden takes visitors on a 12-step journey featuring more than 300 plants traded along the ancient route between Asia and Europe, from rosemary, lavender and fennel to richly scented gallica roses originating from Persia.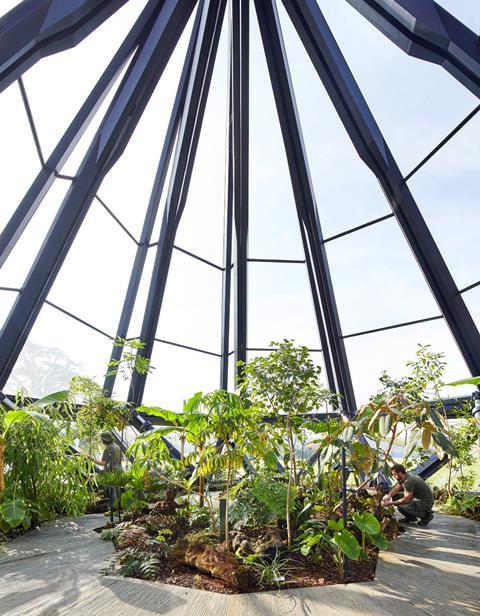 The glasshouse has been designed to shelter plants which need warmer conditions such as umbrella trees, magnolias, bananas and Aralia Vietnamensis, a rare tree from Vietnam.
Heatherwick founder Thomas Heatherwick said: "This is a place and a project that literally unfolds. You step through this bewitchingly beautiful garden and discover an object that starts like a jewel and ends like a crown, as the Glasshouse slowly unfurls.
"I think it also speaks of our need to keep creating amazing pasts. Weaving contemporary inventions into the fabric of historic settings and having the confidence to let each one speak to the other."
National Trust head of gardens and parks Andy Jasper added that the project was a "wonderful reminder of the historic horticultural legacy we are all so connected to in our gardens today".
The glasshouse is the second plant-themed scheme unveiled by Heatherwick this year. In April, it revealed its designs for a 21m 'tree of trees' sculpture featuring 350 native British trees which stood outside Buckingham Palace during the Queen's Platinum Jubilee earlier this month.