Architects with 3-9 years' experience most in demand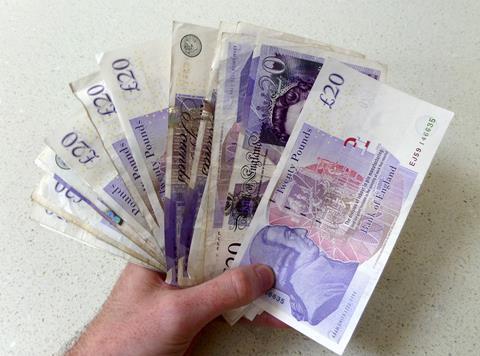 Almost half of junior architects and those with more than 10 years' experience didn't get a pay rise last year according to a new survey published today.
The survey also revealed architects' average base pay didn't increase above inflation in 2017, and wasn't expected to increase in the year ahead.
A junior architect working outside London received an average of £28,555 last year with a London-based architect with more than 10 years' experience receiving £50,160.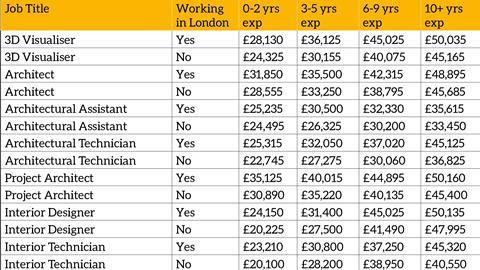 Architects with 6-9 years' experience were the most sought-after by firms, with three quarters receiving a pay rise followed by 63% of employees with 3-5 years' experience.
The number of staff receiving bonuses increased last year with 42% of staff receiving one compared to 35% the year before.
Staff with 6-9 years' experience were the most likely to receive a bonus with 58% benefiting from one. "Losing someone with 6-9 years' experience is tough for a business to cope with and replacing them with someone else is typically very difficult to do, especially quickly. Companies are reacting to this fact by paying them more," said Ben Darnton, the managing director of recruitment consultant Frame which carried out the survey of 13,500 architects (see pdf, below).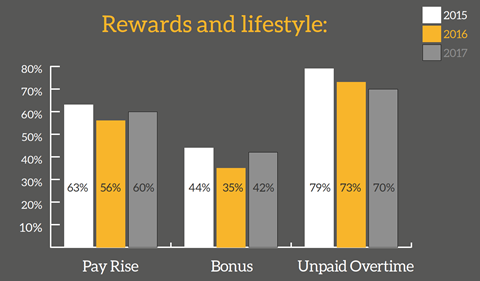 The survey also revealed that staff were marginally less likely to leave their current employer than last year with 42% of architects saying they planned to leave their current job in the next 12 months.
Darnton described the employment market as "volatile and frantic" and said firms were only hiring staff only to plug gaps where an employee has left or as a "distressed purchase" after a project win. "When we ask a client how quickly they need to get a new employee in place, the most common answer is "we need them now". Hiring is reactive, more often than not it's a distressed purchase," he said.
Darnton added that 55% of hiring managers and directors had reported that skills shortages had restricted their ability to deliver on their business objectives last year.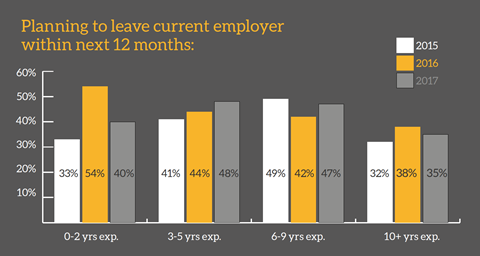 Frame also surveyed London practices to reveal small practices were the worst at providing staff benefits including enhanced holiday provision, private healthcare insurance and formal time off in lieu policies.
Small practices provided very few enhancements to statutory provision. Medium-sized firms with an employee centric approach to running a business and large practices provided the most enhanced benefits.
Most firms only provided statutory maternity pay with just 29% of practices offered an enhanced maternity pay scheme which varied widely in its generosity.