Judges laud Kingston University project as 'progressive new model' for higher education buildings
Grafton Architects has won the 2021 Stirling Prize for its Town House building designed for Kingston University, which brings together a library, event space, dance studios and music rooms.
Judges said the 91,000sq m building was a "progressive new model for the design of higher education buildings" and captured the spirit of learning and the value of community cohesion "expertly".
RIBA said Town House extended the public realm of its south-west London location and blurred the boundary between the university and the street. A 200m long six-storey colonnade offers shadow and shelter, while terraces and gardens above create shelves of connected public space.
Inside the building, the public forum leads to an amphitheatre. From the ground floor, eyes are drawn up through voids and staircases to complementing social and study spaces. RIBA said exemplary acoustic design enabled the bustling public forum, quiet library, archive, dance studio and theatre to co-exist and enrich the experience of the users.
Dublin-based Grafton – founded by Yvonne Farrell and Shelley McNamara in 1978 – was awarded the 2020 RIBA Gold Medal. Today's decision adds the UK's most prestigious architecture prize to the practice's trophy cabinet.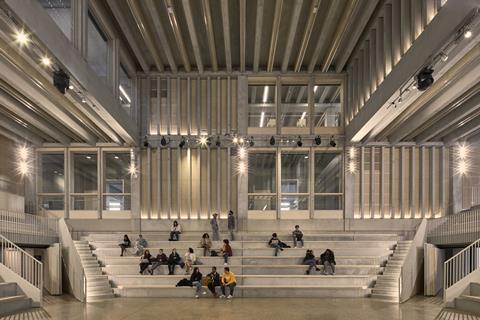 Grafton's Kingston University Town House beat a shortlist including Groupwork's 15 Clerkenwell Close, Marks Barfield's Cambridge Central Mosque, and Carmody Groarke's Windermere Jetty Museum to snare the 25th Stirling Prize.
Earlier this week bookmaker William Hill had Cambridge Central Mosque as favourite to win, with odds of 7:4. Town House was in joint fourth place out of a field of six with odds of 5:1.
Education must be our future – and this must be the future of education

Norman Foster
Jury chair Norman Foster, a three-times winner of the Stirling Prize, said the panel believed Grafton's creation for Kingston University offered new pointers for the future of higher education architecture.
"Kingston University Town House is a theatre for life – a warehouse of ideas," he said. "It seamlessly brings together student and town communities, creating a progressive new model for higher education, well deserving of international acclaim and attention.
"In this highly original work of architecture, quiet reading, loud performance, research and learning, can delightfully co-exist. That is no mean feat. Education must be our future – and this must be the future of education."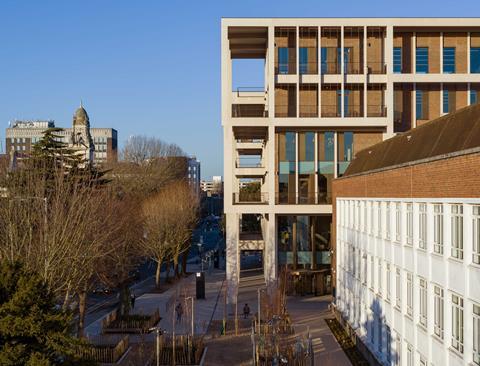 Grafton Architects said it had been given an educational vision by Kingston University that had been translated into a "spatial open matrix".
"We imagined a place where students would feel at home," the practice said. "This building is about people, interaction, light, possibilities. It is about connecting to the community, the passer-by, an invitation to cross the threshold; a three-dimensional framework with layers of silence and layers of sound.
"Space, volume and light are the organisers. The building edges are not boundaries but active gathering spaces, terraces, galleries. Being outside under the big sky is always just a few steps away."
University vice-chancellor Steven Spier said Town House was a "breathtaking new building" and the Stirling Prize award confirmed its world-class status.
"It is invigorating to witness the creativity, collaboration and shared learning this open, inviting space fosters," he said. "Our students have embraced Town House, relishing the opportunity to find their place within it and make its many spaces their own."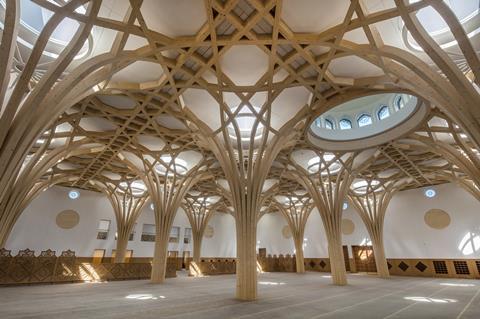 Cambridge Mosque Trust is client of the year
Its project may not have won the Stirling Prize, but Cambridge Mosque Trust has been named RIBA Client of the Year 2021.
Award judges said the mosque's work with Marks Barfield – which was commissioned in 2009 – had resulted in a "breathtaking, highly sustainable place of worship" for the local Muslim community.
The mosque has been recognised by numerous 2021 RIBA Awards, including four RIBA East Awards, a RIBA National Award.
Chair of the client-of-the-year jury Jo Bacon, who is managing partner at Allies & Morrison, said the trust was a "worthy winner".
She said: "Cambridge Mosque Trust, spearheaded by Dr Timothy Winter, Shaykh Zayed, lecturer in Islamic studies, and director of studies at Wolfson College, demonstrated personal commitment and tenacity to deliver a highly sustainable work of contemporary architecture, which is culturally embedded in the history of those who use the building but also appropriate and generous to the civic life of the city."