Gove threatens legal action and funding removal if industry doesn't meet cost of remediating blocks 11 to 18 metres tall
Michael Gove has put developers on notice that they will have to pay the £4bn cost of remediating unsafe cladding on tower blocks.
The housing secretary today said the largest housebuilders have until early March to contribute to a new fund to cover the cost of safety works on buildings 11 to 18 metres in height. This will replace a previously proposed loan scheme for leaseholders to cover the cost of these buildings.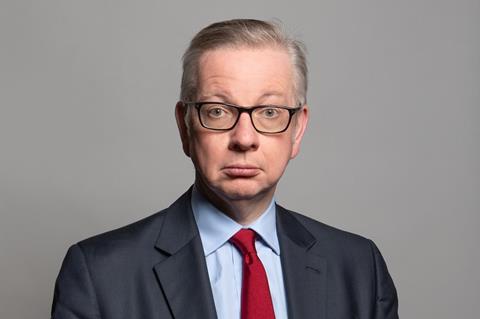 Gove warned the government is prepared to act if developers don't get on board, including restricting access to government funding, using planning powers and pursuing companies through the courts. Gove said if the "industry fails to take responsibility" the government would ultimately look at new legislation to force developers to pay. He told the Today programme this morning that he would tax firms that did not play ball.
In an open letter to developers, Gove said: "I am now offering a window of opportunity, between now and March, for the industry as a whole to work with my department through open and transparent negotiations to agree a settlement that will restore confidence and ensure the industry that caused the problem pays to fix it."
Gove will ask developers to contribute to the fund, undertake all necessary remediation of buildings over 11 metres where they have played a role in development and provide comprehensive information on all buildings over 11 metres that have historic safety defects. He said he will bring together 20 of the largest housebuilders and developer trade bodies to discuss the plans.
Ministers have yet to decide on exactly which companies will have to contribute. However, it is expected firms with annual profit of £10m or more from housebuilding will be eligible for contributions.
Responding to the announcement, Stewart Baseley, executive chair of the Home Builders Federation (HBF) agreed leaseholders should not have to pay for remediation but warned any funding solution should be "proportionate".
Basely said: "The largest UK-based house builders, who only built a minority of the affected buildings, have already spent or committed approaching £1bn to remediate affected buildings and the recently announced Property Developers Tax will raise billions more.
"We will engage directly with government but any further solutions must be proportionate, and involve those who actually built affected buildings and specified, certificated and provided the defective materials on them."
Baseley also called on the government to define guidance around what work needs to be done and said other parties should also have to meet costs, including material manufacturers, "who designed, tested and sold materials that developers purchased in good faith that were later proved to not be fit for purpose".
Meanwhile George Ferguson, former RIBA president and mayor of Bristol, tweeted: "We'll never end the crisis without secondary means of escape to all buildings over 8 storeys: '@michaelgove must spend 'billions more' to end building fire safety crisis'."