Combustible cladding is banned on buildings taller than 18m
Some developers are deliberately constructing buildings just shorter than 18m to avoid regulations rather than improve building safety, a government expert has warned.
Under regulations introduced in December 2018, buildings of 18m or more are banned from using combustible cladding materials.
But Chandru Dissanayeke told a Fire Protection Association conference in London yesterday that "some builders are avoiding the rules by building below 18m".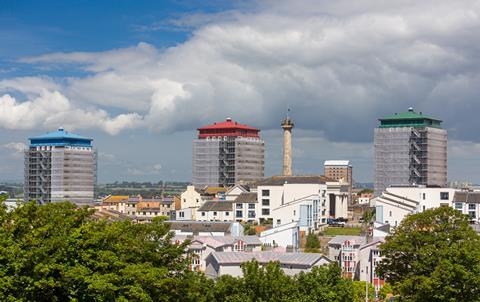 "Experts who say there's a difference between 17.95m and 18m are being dishonest to themselves," added Dissanayeke, director of building safety reform at the Ministry of Housing, Communities and Local Government.
Last week, Dissanayeke's boss, housing secretary Robert Jenrick, said he planned to extend the ban on combustible materials on exterior walls from 18m to 11m, and to ban the use of aluminium composite cladding, the type blamed for the severity of the Grenfell Tower fire, on all buildings.
Dissanayeke added: "We need industry to step up and provide leadership. There are parts of the industry which know about the risks and are closing their eyes and that's disgraceful."
Experts who say there's a difference between 17.95m and 18m are being dishonest to themselves

Chandru Dissanayeke
His comments came as the second phase of the Grenfell inquiry began yesterday, with lawyers for main contractor Rydon and architect Studio E making their opening oral submissions to inquiry chair Sir Martin Moore-Bick
Dissanayeke also outlined more details on how the government's new fire safety regulator will work. It will use staff from the Health and Safety Executive (HSE) combined with some additional staff.
He said the regulator would use "the infrastructure that HSE has and existing expertise to begin with". But he said the new body would not just be an extension of the existing regulator. "There will be some re-prioritisation at first, but this will be a strong new regulator," he added.
Previous plans had suggested the body would be run jointly by the HSE, local authority building control and fire and rescue services. The former HSE chair Judith Hackitt had called for a "joint competency authority" in her 2018 report on fire and safety regulations commissioned in the wake of the 2017 fire at Grenfell Tower.
But last week a spokesman for the housing ministry said the new regulator would be wholly contained within the HSE.