Taipei store is architect's latest project with tech giant
Fosters' latest Apple store in Taipei has opened.
Foster & Partners worked in close collaboration with the design team at Apple led by then chief design officer Jonathan Ive – who announced he was leaving the tech giant to set up his own venture last week.
The Apple Xinyi A13 scheme has replaced a former car park with a pavilion and a public plaza.
The pavilion's glass facades have been designed to invite people through the store to the public plaza, which is sheltered by 23m carbon fibre roof.
Passing through the display spaces on the ground level, the store continues downstairs, with sculptural staircases inspired by the stairs at Apple Park. There are also timber ceilings and trees throughout the store.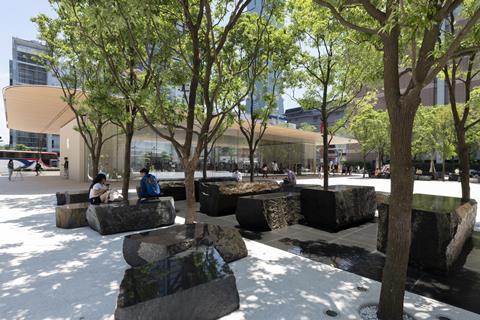 Foster & Partners has worked on numerous projects with Apple, including the visitor centre in Cupertino, California, which opened in November 2017, as well as its $5bn (£3.9bn) main headquarters at Apple Park.
But the partnership has not all been smooth sailing, with the practice's plans for an Apple store in the heart of Melbourne knocked by the city's heritage authority earlier this year.
Heritage Victoria refused the planning application, which would have seen the Yarra Buidling at Federation Square demolished and replaced by the Apple Store.