Business-district branch sits at base of 1970s office block
Foster & Partners has announced the opening of its latest Apple Store in Japan, located at the base of a 1970s office block in Tokyo's financial heart.
The firm's Apple Marunouchi store occupies two levels of the Mitsubishi Building, next to Tokyo Station – one of the Japanese capital's busiest transport interchanges.
Fosters said the expressed structure of the 1973 high-rise offered an opportunity to create a unique façade defined by innovative two-storey vitrines providing a distinctive showcase for Apple.
Head of studio Stefan Behling said the vitrines were created to enhance an existing row of perimeter columns that envelop the store and were made from aluminium that was specially cast to obtain the three-dimensional rounded corners.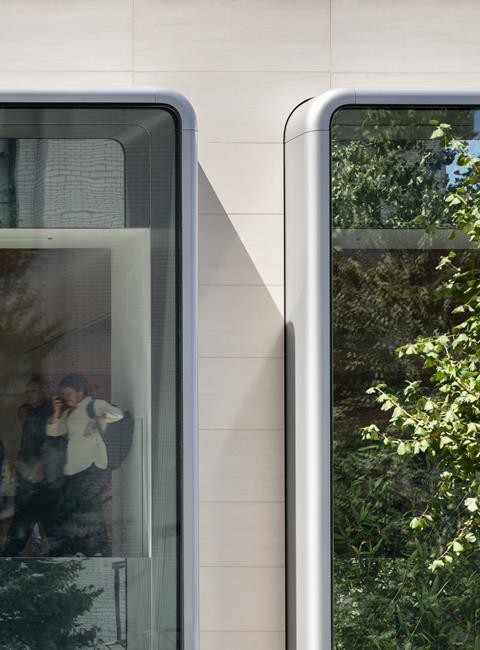 Local bamboo was planted in the vitrines to "add life and greenery" to the spaces within the store as they rise up to conceal the soffit of the upper level, he added.
"We wanted to create a restrained presence amid the bustle of Tokyo," Behling said.
"The beautifully crafted aluminium vitrines define the boundary of the store and Apple's presence, offering everyone walking by a glimpse into the store.
"The structural grid gives the entire volume a certain rhythm, while the calm interior is enhanced by the bamboo that lines the perimeter."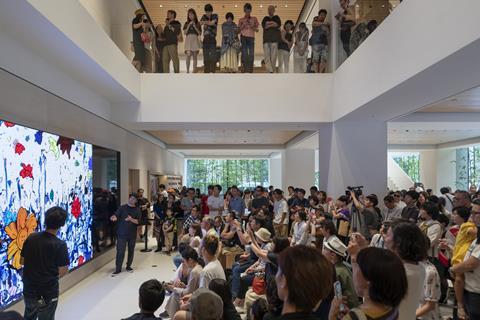 Last year Fosters completed a new Apple Store in the former Japanese capital of Kyoto.
In recent weeks the practice completed an art deco-inspired Apple Store in Miami, while in June Fosters' Apple Store in Taipei opened its doors to the public.