Who is standing and who has been elected unopposed
Gavin Traylor, an architect and lecturer in construction, has been elected unopposed as president of the Royal Society of Architects in Wales (RSAW).
The lack of a contest in the principality contrasts sharply with Scotland, where Christina Gaiger fought off two challengers to be named the youngest president of RIAS in its history this week, and nationally where five hopefuls are standing for RIBA president.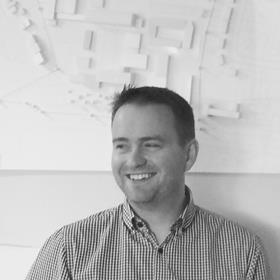 Traylor teaches at the University of Wales Trinity Saint David (UWTSD). He previously led Cardiff council's multi-disciplinary in-house design and construction management team.
He said his focus would be "the future of architects in a sustainable Wales" and his campaign statement said:
Vision: architects have the ability to think about and plan the future with imagination and wisdom. In these uncertain times it is important that we encourage vision and ambition.
Community: the social value of our role within the public community and our innovative role in the wider construction community.
Education: the value that architects bring to projects, the skills we instil to future architects of Wales and greater cohesion between academia and professional practice.
Voice: with policy of Westminster and Cardiff Bay impacting on our profession, it is essential that architects in Wales have a voice.
Meanwhile the candidates standing for seats on RIBA's council have also been annnounced.
They are listed below. There will be virtual hustings on July 7 and 9, with voting running from July 14-August 4.
RIBA council candidates
National council seats
10 candidates contesting two seats (three-year term from September 1):
Bruce Buckland
Simone de Gale
Jennifer Dixon
Tom Foggin
Joe Giddings
Neil Lister
Anthony Lloyd
Timothy Onyenobi
Robin Snell
Piers Taylor
Regional council seats
RIBA London
21 candidates for six seats:
David Adjei
Sarah Akigbogun
Dagmar Binsted
Christopher Bradley
Angela Dapper
Alasdair Ben Dixon
Craig Douglas
Annette Amanda Oyekunle Fisher
Lanre Gbolade
Pedro Gil
Christopher Hampson
Harriet Harris
Seb Laan Lomas
Femi Oresanya
Alfonso Padro
Izis Salvador Pinto
Cheryl Pilliner-Reeves
Vinesh Pomal
Jack Pringle
Anna Webster
Sui-Te Wu
RIBA South East
Three candidates for two seats:
Duncan Baker-Brown
Julia McLoughlin
Danka Stefan
RIBA South West
Graham Devine is elected unopposed.
RIBA Wessex
Yuli Cadney-Toh elected unopposed.
RIBA East
Roger Shrimplin elected unopposed.
RIBA West Midlands
Philip Twiss elected unopposed.
RIAS South
No candidates.
International council seats
Europe (excluding UK)
Tim Clark elected unopposed.
Americas
Two candidates for one seat:
Catherine Davis
Thierry Paret
Asia and Australasia
Three candidates for one seat:
Nela de Zoysa
Ken Wai
Roger Tsan-Sum Wu
Middle East & Africa
Alice Asafu-Adjaye elected unopposed
How do I vote in the 2020 RIBA elections? Find full details of presidential and council candidates including their statements and voting papers here.