Architect's plans for Scottish extension turn biblical quote on its head
ECD Architects has won planning permission for an offbeat extension to a Scottish church that will deliver a competition-standard climbing facility – and turn a famous bible quote on its head.
While "upon this rock I build my church" is one of the most frequenly quoted lines from St Matthew's Gospel, the Fife town of Lochgelly is seeking to build a rock-climbing centre on one of its churches.
The historic St Andrew's church has been empty since 2006 and last year underwent a £736k programme to repair it and make it ready for the introduction of bouldering walls – as part of the first phase of a project to reinvent the building as a climbing centre to boost health, wellbeing and the local economy.

The second phase of the project – now approved by Fife Council and supported by Fife Historic Buildings Trust – will deliver an extension allowing the centre to offer a cafe area, a multi-level soft play area, bouldering walls, a top-roping and competition-standard climbing arena, a viewing platform, relaxation areas and washrooms.
Jennifer Rooney, lead project architect at ECD, said the scheme would re-vitalise the existing church building and create an "exciting" recreational facility that would front on to a new public space.
"As a climbing centre, the scale of the building is large; however, the form has been designed such that it relates to the surrounding context with the lower-level training walls positioned to the north, adjacent to the Cook Square housing development," she said.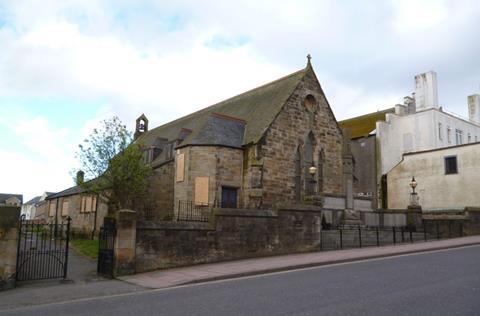 "The extension is designed with semi-translucent backlit cladding to reduce the massing and add interest when viewed from the future town square to the south."
Fife Historic Buildings Trust said the project demonstrated how heritage could contribute to social and economic improvements in communities as part of a partnership approach.
It said the centre, which will be operated by local social enterprise Rockgelly, was expected to open in 2020.