Architect lowered floor by 1.2m to improve acoustic at former infirmary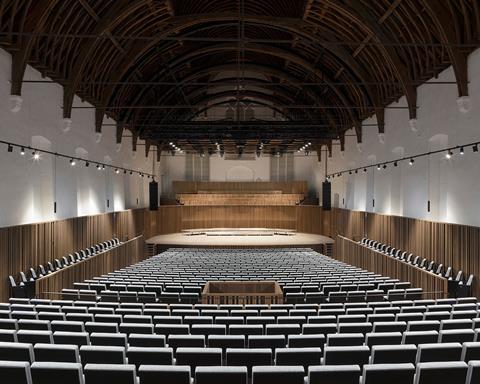 DRDH Architects has completed the £4m renovation of a unique concert venue in a 13th-century gothic hall in Flanders.
The hall at Ghent's former Bijloke Abbey hospital, which was converted into a music centre in the 1980s, was originally built as an infirmary at a time when the Belgian city was the second-biggest in Europe north of the Alps, after Paris.
After a €4.6m (£4.15m) transformation in collaboration with heritage consultant Julian Harrap Architects and acoustician Arup, the venue will now be able to accommodate up to 830 concert-goers and host world-class performances.
The previous concert hall had poor sound despite the use of electro-acoustic enhancements. The new scheme has done away with the need for these with a series of physical interventions. These included moving the stage 5m towards the centre of the room and lowering the floor by 1.2m, increasing the room's volume by around 13% and improving accessibility.
The medieval walls, which had splayed out over time under the weight of the vaulted timber roof, pushing the sound up, have been lined with fumed oak to redirect the sound and contribute to a more intimate atmosphere. All the historic entrance doors have been reinstated.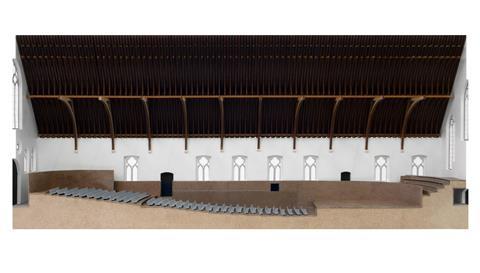 The project is the centrepiece of a wider €7m (£6.4m) masterplan for the complex which has already seen the conversion of a former entrance space into a cafe bar and jazz venue designed by Flemish designers Studio Helder and Onbetaalbaar, who created furniture from recycled elements of the previous concert hall.