Pair took out loan when practice folded to ensure staff were not left in lurch
Jeremy Dixon and Edward Jones paid their staff's £98,000 redundancy bill from their own pockets when the practice collapsed last year, they have revealed.
The pair, who founded the influential practice 30 years ago, took out a substantial loan to ensure their 15 remaining members of staff did not miss out on money owed to them.
It allowed them to keep redundancy pay out of the winding-up process which might have seen staff waiting many months to be paid sums understood to average £6,500 each.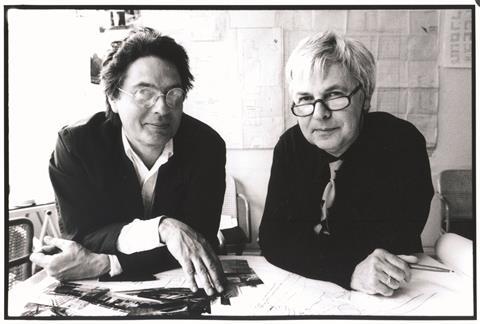 Jeremy Dixon told Building Design: "We could have chosen to put the redundancy inside the liquidation but we took the step to say we will pay for it outside the liquidation because we were very concerned for them.
"We have incredibly loyal and important staff and we are very unhappy to be losing them. The very least we could do was to make sure they got their redundancy."
The risk of staff being out of pocket was "not acceptable given the affection in which we hold them", he added.
Edward Jones added: "We took out quite a large loan and £98,000 of that went to our staff. No one missed out. They have all been paid very adequately."
The pair may eventually recoup some of that money where members of staff are able to make individual redundancy claims.
Documents just published on Companies House show Dixon Jones Ltd went under owing £300,000, including £98,000 to staff, £123,473 to HMRC and £47,000 to Wren Insurance.
But Jones said the loan they had taken out was for £300,000 and that all debts would therefore be settled. Parent company Dixon Jones Holdings Ltd is in the process of putting the firm's former studio, in Hanover Yard, near the Regent's Canal in Islington, on the market with an asking price of £3.2m.
"That more than covers what we owe," said Jones.
Dixon Jones ceased trading last autumn and liquidators Resolve Advisory were appointed at the end of last month. The pair, both in their early 80s, were warned by their accountant that they faced a "mountain of debt" if they did not close the firm which was responsible for some of the UK's most prestigious projects including the transformation of the Royal Opera House, the National Portrait Gallery and the fountains at Somerset House.
After the firm was wound up, a handful of staff continued to work on the practice's ongoing projects after being taken on by those schemes' contractors or clients. Jones himself is now working in a private capacity on public realm improvements to College Green outside Trinity College in Dublin.
One of the firm's final projects, the Olympic Way steps at Wembley Stadium, was finished off by vPPR after lead architect Anthony Charnley moved to the practice from Dixon Jones last year.
Jones said they were "very happy" with the steps. A huge top-lit space in the undercroft would open in June creating an area for social events outside the stadium which the Wembley currently lacks, he added.