PLP scheme was revised down to 59 floors
The team behind the PLP tower going up in the Square Mile has decided to stick with the original taller scheme – weeks after being given planning for a shorter design.
The U-turn comes after investor AXA IM Real Assets was given the green light for a 59-storey scheme at 22 Bishopsgate – the former site of KPF's abandoned Pinnacle tower – after the initial proposal for 62 storeys was hit by air traffic control constraints and issues over the impact the new building would have on radar cover for planes using Heathrow and London City airports.
In a report rubber-stamping the revised application at the end of February, the City's planning committee said it had been "advised that the lowering of the tower in the new proposal was in response to construction management restraints in relation to aviation safeguarding issues".
The plan would have seen the original stepped top design replaced with a flat topped design that would have seen the height revised down 23m to 272m.
Other issues behind its reduction were, according to a design and access statement submitted with the revised design last November, "a different economic climate" as well as "a desire to move away from an iconic approach to architecture and construction, towards a quieter, calmer, more rational design".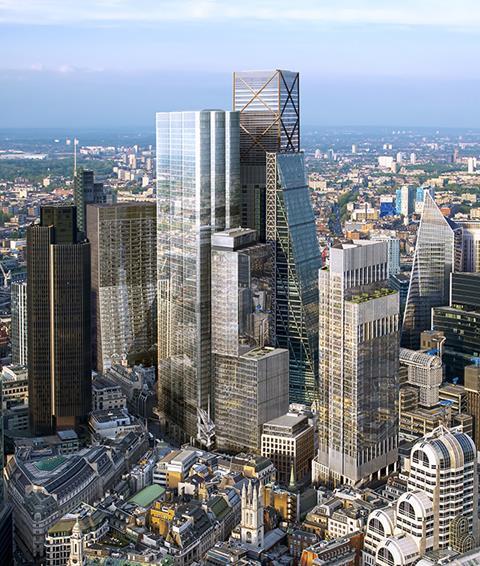 But AXA told BD it is now sticking with the 62-storey plan and added: "We have thoroughly reviewed the delivery and construction methods, as well as the timings for delivery, of both options in consultation with all key stakeholders.
"Following this assessment and given that all the construction contracts are already in place for the original stepped top design and we are currently building one floor a week, we have decided to continue with the original consent."
Peter Rogers from developer Lipton Rogers said: "The idea of dropping the height a little was to make it easier to build and slightly more efficient, [but the] trouble was one of timing as steel and cladding fabrication are well under way."
Last month, the developer submitted an application to the City of London to have a series of planning conditions at the site lifted – including stopping construction work, which is currently being built by Multiplex, on the permanent structure at 126m.
In its application, planning agent DP9 said National Air Traffic Services and London City Airport had reached a so-called radar mitigation agreement which would see the airport issue a 'discharge letter' to the City meaning it was "now satisfied for the City to discharge the conditions and allow construction to proceed above the defined limit".
AXA said 22 Bishopsgate was currently at level 24 and on schedule to complete construction in 2019, with an official marketing launch due over the summer.