New CGIs show rise and rise of Square Mile's eastern tall buildings cluster
RSHP's Cheesegrater and Richard Seifert's Tower 42 blend into the background while Foster & Partners' Gherkin is a relative minnow in new computer-generated images that fast forward the City of London's skyline eight years.
The set of views of the Square Mile's eastern tall buildings cluster as it will look by 2026 shows a forest of towers dominated by Eric Parry's 1 Undershaft, and PLP Architects' 22 Bishopsgate, or "TwentyTwo", along with completed versions of KPF's Scalpel – which topped out last month, and PLP's under-construction 150 Bishopsgate.
In a year-end tally of high-rise activity, the City of London Corporation said 13 towers in its eastern cluster were currently consented or under development and that the area would deliver about 60% of the growth under the authority's jurisdiction over the next decade.
At 73 storeys, Parry's 1 Undershaft is the cluster's tallest consented element – although a section 106 agreement on the scheme has yet to be finalised and construction has not started.
PLP's 22 Bishopsgate will be second-tallest. Although it has only 62 storeys, the structure is just 10m shorter than 1 Undershaft.
The City said six of the 13 blocks in its tall buildings pipeline had public viewing platforms, making the Square Mile "internationally unique" in offering tourists, school children and the wider public free views of the capital from height.
It added that the consent granted to 22 Bishopsgate was also unique in requiring deliveries to be sent to an offsite "consolidation centre" serving the office tower. It is encouraging the future use of such arrangements to reduce the traffic, safety and environmental impacts of freight while improving public safety and still allowing the City to receive the deliveries it needs.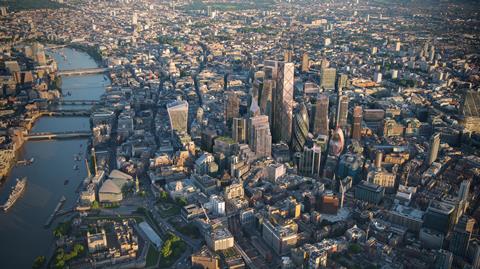 Chris Hayward, who chairs the City's planning and transportation committee, said the Square Mile was witnessing an "unprecedented" scale of development, with more cranes on the skyline than at any time in recent decades.
"The City's occupier base is becoming more dynamic, with SMEs and media companies choosing the Square Mile as their home," he said.
"I am particularly proud that we are able to make available economically inclusive spaces with free public viewing galleries in City skyscrapers.
"Over the next 30 years I expect that we will need to deliver office space for up to 100,000 extra City workers. Iconic buildings such as TwentyTwo will lead the way in ensuring the City remains competitive as a leading financial centre."
The City said that a snapshot of development in September last year revealed that there was over 1.37 million sq m of office space under construction, compared with 1.22 million sq m in March 2016, before the UK voted to leave the European Union.
| Development | Height (m) | Status |
| --- | --- | --- |
| 22 Bishopsgate | 294.94 (62 storeys) | Under Construction |
| 52 Lime Street (the Scalpel) | 206 (36 storeys) | Under Construction |
| 100 Bishopsgate | 181 (37 storeys) | Under Construction |
| 6-8 Bishopsgate/150 Leadenhall Street | 185 (50 storeys) | Under Construction |
| 70 St Mary Axe | 164.3 (21 storeys) | Under Construction |
| 150 Bishopsgate | 150.92 (41 storeys) | Under Construction |
| 120 Fenchurch Street | 85 (15 storeys) | Under Construction |
| 80 Fenchurch Street | 78 (14 storeys) | Under Construction |
| 1 Undershaft | 304.6 (73 storeys) | Consented, Not Commenced – still subject to S106 approval |
| 2-3 Finsbury Avenue (Broadgate) north of the Eastern Cluster | 168.4 (32 storeys) | Consented, Not Commenced – still subject to S106 approval |
| 40 Leadenhall Street | 170 (34 storeys) | Consented, Not Commenced |
| 130 Fenchurch Street | 105 (17 storeys) | Consented, Not Commenced |
| 1 Leadenhall Street (corner of Leadenhall Market) | 182.7 (36 storeys) | Consented, Not Commenced |