Planning hearing due next month
The head of the planning committee that will rule on Foster & Partners' controversial Tulip tourist attraction has admitted any decision to approve it could well be called in for a public inquiry by the secretary of state.
Chris Hayward's comments come as the City of London planning committee hearing into the 305m tall structure is set to take place next month.
"We're aiming for April 2," Hayward told Building. "That's the date we're hoping to bring it to committee."
The chairman of the City's planning and transportation committee admitted the scheme will be "the most controversial I have ever heard" and added: "[The building] is purely leisure. From the City's point of view, it's very different to anything we've ever looked at."
And he admitted: "There's a lot of people against it. Whatever decision we make, certainly if we consent it, the mayor can call it in, indeed the secretary of state could call it in [and] I would not be at all surprised with a development like that if the secretary of state [called it in] for a public inquiry."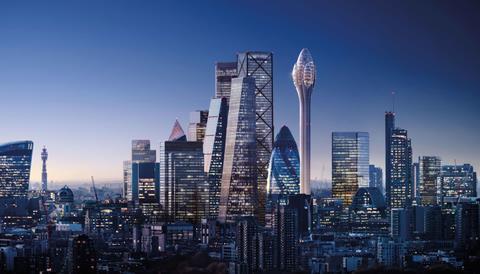 Hayward said he was still waiting to receive a planning report ahead of the April 2 hearing and added: "It provides a different sort of building in the City, the like of which we've never before. It's an interesting design."
So far government heritage advisor Historic England, Tower of London custodian Historic Royal Palaces and the Greater London Authority have all given City planners critical feedback on the proposals – as has the authority's own built-environment team.
The scheme has been earmarked for a site next to the Gherkin and created for that building's owner – the billionaire banker Jacob J Safra.