Practice submits beefed-up proposals for key phase of South Kilburn transformation
Child Graddon Lewis has lodged new proposals for a key phase of the south Kilburn regeneration project in north-west London, boosting housing numbers and revising the layout of a Penoyre & Prasad scheme approved two years ago.
The practice said its designs for the "Peel Place" element of the project, which is a collaboration between Countryside Properties and Brent council, "broadly" retained the architectural approach of the earlier scheme.
One of the seven Penoyre & Prasad blocks will be built in accordance with the original consent. However, Child Graddon Lewis said its proposals would see the reorientation of other blocks and revisions to the scheme's 16-storey tower to make it "slimmer and more efficient internally".
The revised proposals, submitted for planning to Brent this month, would see an overall increase in housing from 226 to 308 units through what the architects described as "a selective increase in residential floorspace without a reduction in quality or compromising amenity for neighbouring properties".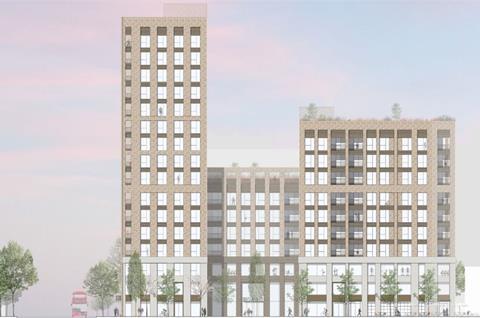 Around 40% of the new homes are projected to be "affordable", with 181 earmarked for private sale. The original proportion was 13%.
The practice said that its revised layout also "drew people towards" a new market square planned for the project. The scheme will also feature a new gym, health centre, retail and commercial space.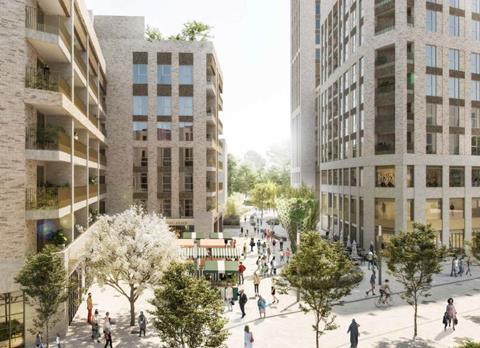 Child Graddon Lewis said it had become involved in the project as part of the tender process in which Brent chose Countryside, Home Group and Octopus Healthcare as its development partners.
"CGL were involved in this process and together with the client team, provided proposals that enhanced the overall scheme, and achieved the council's aspirations," the practice said.
The wider South Kilburn Regeneration Project aims to deliver 2,400 new homes over the space of 15 years. The Peel Place project is part of phase 3A and 3B.