Pearl Assurance building near Peterborough was under threat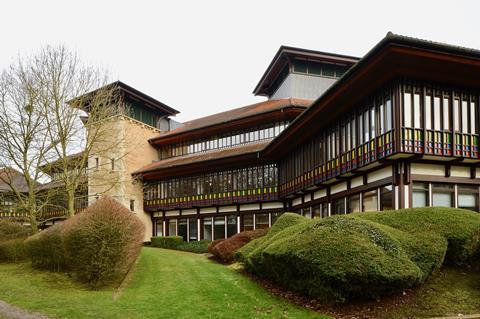 Chapman Taylor's striking post-modern Pearl Assurance HQ has been listed after the Twentieth Century Society stepped in to see off a threat.
The building, on a pioneering business park outside Peterborough, has been given grade II status.
The society also managed to get protection for 25 acres of landscaped grounds and grade II* listing for a war memorial which was designed by George James Frampton RA and relocated from the company's London offices.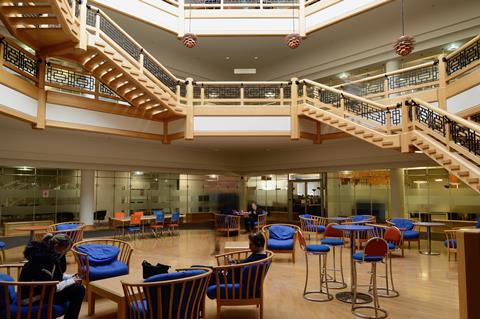 Built between 1986 and 1992 to accommodate 2,200 staff, the building is vast in scale with three square blocks of open-plan offices, each three storeys high, with an open-sided atrium, an attached computer hall, a 600-seat restaurant and training centre and two decks of underground parking.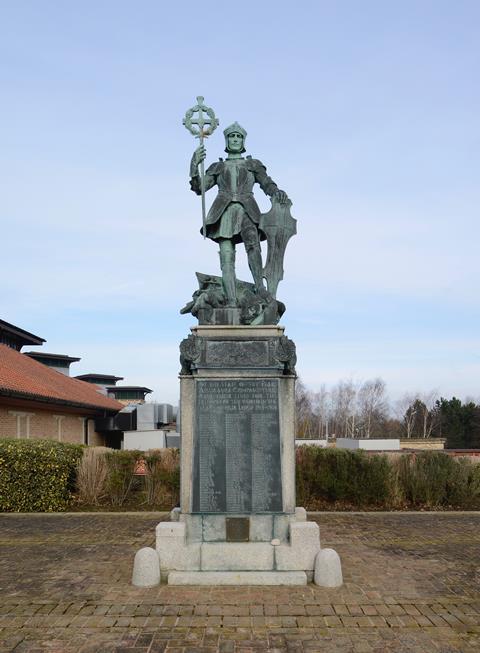 When C20 submitted its application there was a proposal for a new building which would have entailed moving the car park to the site of the maze, requiring an access road to cut through the landscape. The application was withdrawn following many objections, but the listing assessment went ahead.
Clare Price, C20's head of casework, said: "The decision will help protect this very special complex from any future unsympathetic developments. We are delighted with this trio of successes, particularly for a post-modernist complex, a style which has been much maligned in the past but which is now gaining the recognition it deserves."
It was co-founder Bob Chapman's last project for the practice before his retirement in 1993. He died in 2017 aged 89.
C20 description
As is characteristic of post-modern works, Chapman Taylor drew inspiration from previous building traditions and styles, including Romanesque and Italianate architecture and English medieval timber-framed construction, the decorative elements echoing Moorish traditions and the work of Charles Rennie Mackintosh.
The complex is situated on Lynch Wood Business Park, a pioneering initiative from Peterborough Development Corporation which was created in 1968 after Peterborough was given new town status and charged with the urban development of the area to provide homes, work and a full range of services required for the relocation of 70,000 people.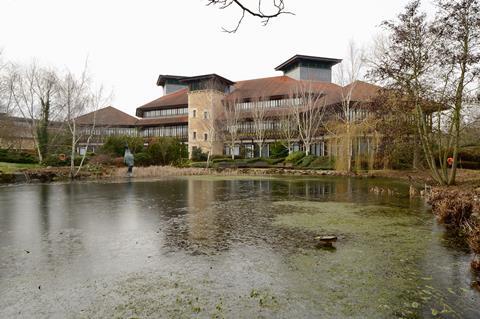 Landscape architecture was an important aspect of these developments, not just to create a corporate identity, but also to provide attractive places for office workers to have their lunch – an important consideration in semi-rural locations where there was no high street to escape to.
The designed landscape of the Pearl Centre is considered an important work by Professor Arnold Weddle, an accomplished landscape designer and influential lecturer. Executed under the direction of Chapman Taylor Partners, it is a rare example of a designed landscape intimately connected to and complementing a contemporary office building.
It features sculptural landforms creating a variety of external spaces, including: lakes, a memorial garden, entrance courtyard, physic garden, parterre garden, pyramid, wildflower meadow and ziggurat. These features were not just ornamental: the lake was stocked with coarse fish and used for fishing, and the platform of the pyramid was intended for use as a boules court or events space. More than 75,000 trees and shrubs of 500 varieties were planted.