Five-storey mixed-use infill based on 44 'misshapen blocks'
Bureau de Change has completed a five-storey mixed-use development in London's Fitzrovia that adds to the district's eclectic streets with a traditional-yet-contemporary mix of misshapen Staffordshire blue clay bricks.
The practice's Interlock building on Riding House Street was created for developer HGG London and delivers three new apartments, a street-level café and a gallery beneath.
Bureau de Change said the scheme responded to the proportions of the neighbouring 19th-century terrace with a brick façade purposely designed to create a building of "uncertain" heritage – simultaneously historic and contemporary, familiar yet foreign.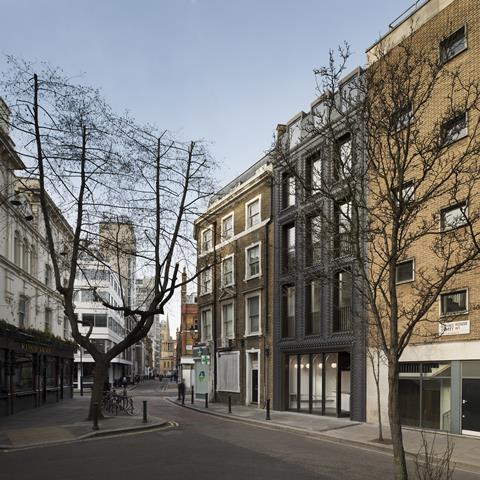 Co-founder and director Katerina Dionysopoulou said the practice had decided to abandon the "traditional dimensions of London brick" for the scheme, settling for "a collection of 44 misshapen and seemingly unstackable clay blocks" instead.
"We were interested in taking these very traditional proportions and in some way subverting it – like a puzzle box that seems familiar and reveals a hidden complexity that increases the more you interact with it," she said.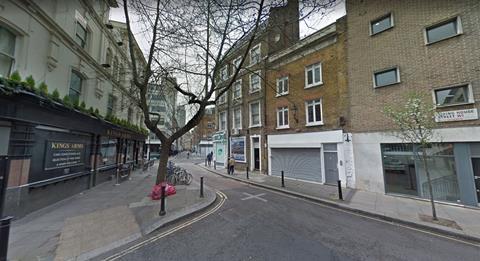 Dionysopoulou said Staffordshire blue clay had been selected as a contrast to the area's existing brickwork, and that the marl clay had been set into 14 hand-crafted steel moulds and fired in oxidation to create the matt blue finish.
After firing, the 14 "parent" bricks were divided to form the 30 "offspring" bricks. Construction of the 5,000 block "landscape" took place over three months.
Project team
Client: HGG London
Architect: Bureau de Change
Structural engineer: HRW
M&E engineer: MWL
Group contractor: Phillip Banks
Facade contractor: Irvine Whitlock
Brick fabricator: Forterra