Gillian Darley finds herself under uncomfortable scrutiny at Facebook's new home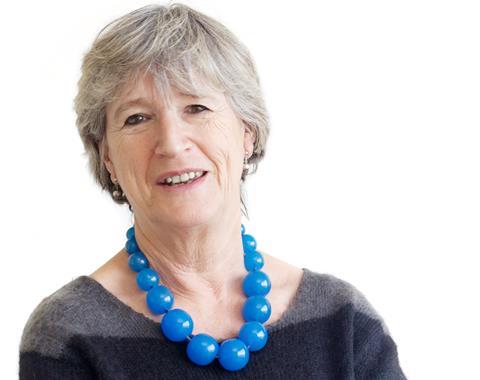 Even now, central London has a surprising variety of hidden pockets of open ground. The greenest are disused burial grounds, far away from the parish church in question, closed in the mid 19th century and later handed back to Londoners as public gardens. They offered (and still offer) what Octavia Hill, housing reformer and open space campaigner, called "open air sitting rooms". Equally hidden are the old routes, passages and working mews that pepper Clerkenwell, Holborn and Fitzrovia.
Predictably, Crossrail has made land within a wide radius of its route rich pickings. The dramatic contraction of the postal service has freed up huge Royal Mail Group sites, ripe for the picking (see Comments passim on Mount Pleasant). A recent Survey of London blog is well worth reading, revealing the extent of the space that lurked behind Rathbone Place – including an immense, long disused, games room.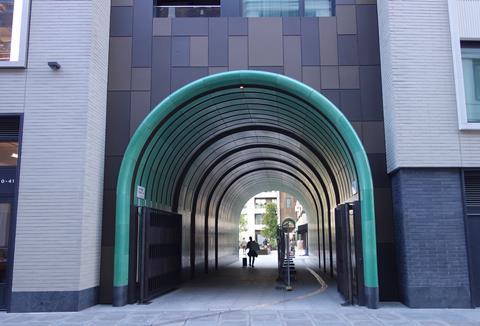 Rathbone Square has been formed from that hinterland, the old Western District Post Office, now a toney mixed development by Make occupied by Facebook among others. The enclosed, discreetly designed square (by Gustafson Porter & Bowman) is a gain, at least for those who like their leisure moments closely scrutinised. Hard landscape in pukka materials, water features and planters full of grasses demarcating where passers-by can and cannot go, is the expensive, unfriendly, vocabulary of public open space on developers' terms. A pair of turquoise ceramic-clad tunnels lead you in, out and through. But all is not quite as it seems; take a photograph as you walk in and an embarrassed, impeccably polite young guardian steps forward from the shadows to point out that, appearances to the contrary, this is private property, that of Great Portland Estates. As he says, "I hate always having to say no."
The incoming ground-floor eateries will satisfy a world of passing trade (fine iron gates will shut at 10pm, for now) and the svelte commercial and residential premises alongside offer nothing more than bland neutrality, impersonal and policed. All this in a part of London that can still offer a working mews entered beneath an arch alongside a pub, where cut-throughs and cul-de-sacs are not menacing but lively and useful. This eastern fringe of Marylebone, spilling into Soho or Bloomsbury to either side, has always been busy, well-worn and urban.
At the other end of the open space scale, are the Royal Parks. For many years, the distinguished landscape architect Hal Moggridge and his firm Colvin and Moggridge were their leading consultants. In his recently published overview of a lifetime in the profession, a handsome volume titled, Slow Growth: on the Art of Landscape Architecture (Unicorn) Moggridge offers many wise observations, from the specific to the general, the historic and the contemporary, but in particular those crucial site lines, respect for which he continues to fight for tenaciously.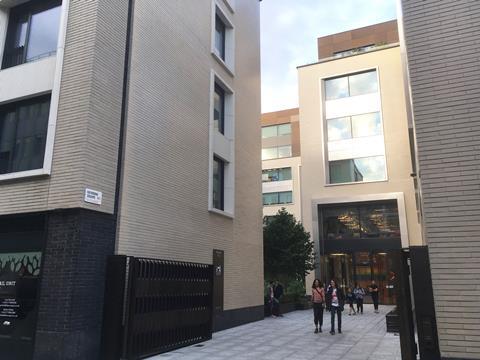 Moggridge also portrays the workload of an international landscape practice over decades. In 1979 his firm was retained by the City of Benghazi to design the Benghazi Lakes Park. At the preparatory stages Chris Carter, the firm's partner in charge, was frequently apprehended for photographing apparently sensitive, but seemingly innocuous, locations in Gaddafi's jumpy country, Libya. Carter's innocent mission was to record indigenous plants flourishing in the unfamiliar and unforgiving north African landscape. (The project eventually foundered due to the dominance of free-range goats in the city.)
But when it becomes uncomfortable to raise a camera in my own capital city, I think it is time to get worried; very worried.