LABC certificate became key part of Kingspan's marketing literature for product used in Grenfell Tower's cladding system
A local authority building control officer has said that he was "pressured" by Kingspan and a representative body to provide a certificate for a combustible insulation product used on the refurbishment of Grenfell Tower, the inquiry has heard.
David Jones, a building control officer in Herefordshire, told Thursday's hearing he was under pressure to "find a way" to approve Kingspan's K15 insulation as safe to use on high-rise buildings.
The 2009 certificate he produced for Local Authority Building Control (LABC) - the group representing local authority inspectors which was paid by Kingspan to provide a certificate - became an important part of Kingspan's marketing literature for K15.
Jones also told the inquiry he did not have sufficient knowledge to make a judgement on the product, admitting: "I have no doubt that in 2009 with the level of experience and knowledge I had, I would have tended towards trusting what [Kingspan] were telling me in their literature."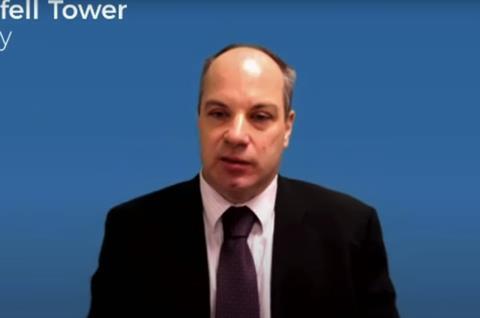 He added: "After all, their products had been researched and developed by people with extensive specialist expertise in the field and the company was viewed as being one with integrity."
Jones said that he had left his first meeting with Kingspan with a "clear impression" that K15 was a product of "limited combustibility", the minimum requirement for use on buildings above 18m, although he said that he could not remember anybody using this specific phrase.
But K15, which was composed of a combustible plastic foam, could never have obtained this standard.
In his witness statement, Jones said: "I recall thinking that this was consistent with a general opinion among building control surveyors I had known that Kingspan products would not really burn but would char slowly and self-extinguish once the ignition source was removed."
He described how he had seen a video of a "generic" Kingspan product being subjected to a blowtorch in which the product had not caught fire but had turned black and glowed around the edge before the flames petered out.
He said: "There was definitely an impression in the industry that that was how these products behaved in fire, so what I was being told didn't seem so outlandish with that in mind."
In fact, the inquiry has already heard that K15 had turned a 2007 Building Research Establishment (BRE) fire test rig into a "raging inferno" which had to be extinguished because of fears it would endanger the laboratory.
He then told the inquiry how Kingspan and LABC had asked him for an approval for a system, rather than just the K15 product, despite the fact that the other components in that system had not been defined.
He said that a certificate just for the product would be "of no value" to Kingspan, and "it was clear that they wanted something more, they wanted it to be something that could be representative of a system, albeit that that system hadn't been defined".
He added: "I wrangled over it a lot: how on earth can I do this?"
Inquiry chairman Martin Moore Bick asked: "Why did you feel it necessary to go to such lengths to satisfy Kingspan's requirements?"
Jones replied: "I perhaps ask myself the same question now, but it's because that's what LABC had asked us to do.
"They'd asked us to do a system approval. They'd asked us to go and meet Kingspan and find out what Kingspan wanted.
"So I suppose from every angle I was being pressured by LABC and by Kingspan, if you like, to find a way of doing a system approval, and I suppose I was just trying to please all parties, but at the same time come up with something coherent as far as I felt it was at the time."
The inquiry has already heard that when Jones sent over a draft certificate in March 2009, Kingspan's then technical manager Philip Heath wrote in an internal email: "Make no mistake, this document could be GOLD… Please progress this ASAP to the next stage… Peddle [sic] to the floor."
When a final draft of the certificate was sent to Kingspan in May which stated that K15 could be considered a material of "limited combustibility," Heath reacted by writing: "FANBLOODYTASTIC."
Last year, the inquiry was shown emails from the National House Building Council (NHBC) which called the LABC certificate "garbage" adding: "Hereford LABC didn't know what they were talking about."
The insulation product was never specified for the refurbishment of Grenfell Tower but was found to be part of its cladding system after the June 2017 fire which claimed 72 lives.
The inquiry continues.