Manufacturer was warned a decade before the Grenfell fire that significant use of ACM panels could kill '60-70 people'
The firm which sold combustible cladding panels used on the refurbishment of Grenfell Tower was warned a decade before the deadly fire that the material would burn like fuel oil and could kill up to 70 people, the inquiry has heard.
The fire at Grenfell Tower in June 2017 led to the deaths of 72 people.
Arconic marketing manager Gerard Sonntag attended an industry event in Norway in 2007 where a cladding expert set out the dangers of using plastic-filled ACM panels on buildings.
The expert, Fred-Roderich Pohl, a consultant for metals firm Otefal, said that 5,000m2 of ACM would have the same "fuel power" as a "truck of 19,000 litre oil" in the event of a fire.
In his memo on the presentation, Sonntag said Pohl had also raised the question of the responsibility of the manufacturer if a building clad in ACM was to catch fire, which he suggested could kill "between 60 to 70 persons".
Pohl's presentation included videos and pictures of ACM fires in Qatar, which Sonntag said showed a "tremendous big volume of toxic smoke who [sic] is even more dangerous than the fire himself [sic], because in such a case a person can die from the smoke emissions within two or [three] minutes".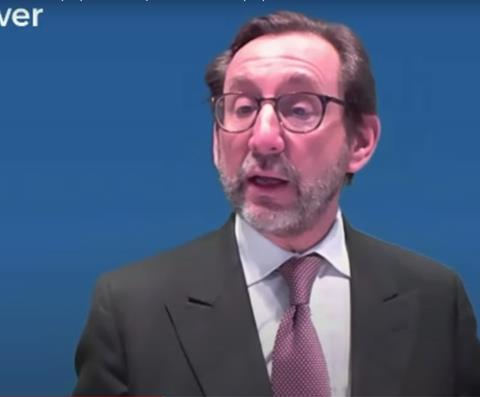 Around 3,000m2 of Arconic's combustible Reynobond PE ACM panels were used to clad the 24-storey Grenfell Tower. The inquiry has already found that the panels were the "primary cause" of the rapid spread of flame up the sides of the building.
The revelations came as counsel to the inquiry Richard Millett QC read out questions that he would have posed to three witnesses from Arconic's business in France who have refused to give oral evidence to the inquiry because of legal advice they have received.
The three witnesses are technical manager Claude Wehrle, sales executive Gwenaelle Derrendinger and product manager Peter Froehlich. Sonntag has not been called to give evidence to the inquiry.
Reading out internal Arconic documents obtained by investigators, Millett said Sonntag had been "very impressed" by the presentation given by Pohl, who Sonntag said had given him a "very high [shock]".
Following the presentation, Sonntag suggested that Arconic should stop selling the cheaper, more combustible polyethylene version of its ACM panels, called PE, and switch to selling only the more fire resistant but more expensive FR version.
He wrote: "Let's imagine that Otefal organise a lobbying activity on the European [Parliament] and show such a presentation in [Brussels], the result could become catastrophic for the ACM products."
Barrister Richard Millett read out questions he would have posed to three Arconic witnesses in France who have refused to testify in person
Sonntag said that Arconic should "launch a cost reduction programme" to be able to sell the FR panels at the cost of the PE panels "if we want not to take any risk for anyone".
The firm did launch an 'FR at PE cost' project in 2008, but it continued to sell its PE panels on the UK market until 2017, and only halted supply on 26 June that year, 12 days after the Grenfell Tower fire.
Despite continuing to sell the more expensive PE version in the UK, the firm ordered its French sales team to stop selling the product in France more than a year before the fire, an instruction which UK sales manager Vince Meakins said last month he had never been given.
And yesterday's hearing was told how in 2011, Arconic had warned a Spanish customer not to use its PE panels because they had only achieved a fire performance rating of Euroclass E, which the customer said was "close to spontaneous combustion".
This test result was not initially declared by Arconic, with staff considering the result to be a "rogue" result. The inquiry heard last month how UK sales executive Debbie French had sent the Grenfell Tower project team an earlier test report which had given the product a B rating.
The inquiry also heard yesterday that Wehrle sent a report to colleagues that analysed a fire at the Lacrosse Tower in Melbourne in 2015 and that blamed ACM for causing the spread of fire.
In another email in 2016, he sent images of a fire at a building in Strasbourg which was 10 metres away from a neighbouring tower clad in Arconic's Reynobond ACM panels.
Wehrle said that the firm was "very lucky", adding: "Fortunately, the wind didn't change direction, but… we really need to stop proposing PE in architecture! We are in the 'know', and I think it is up to us to be proactive…AT LAST."
The inquiry continues.