Full customs declarations for construction products only required from July
Construction firms have been warned to "stay alert" to the introduction of new post-Brexit border controls due to come into force by July.
Imports of construction products from the EU have so far avoided major Brexit-related disruption following the start of the UK's new trading relationship with the EU on 1 January but new rules on customs declarations are due to hit firms within the next six months.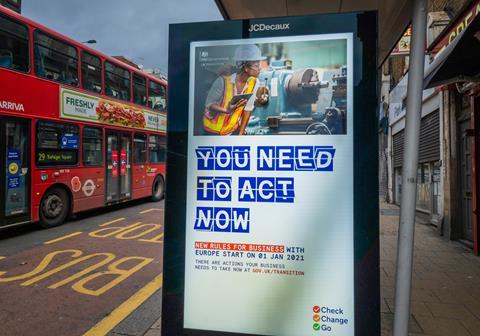 The UK government announced in June last year that only "controlled" goods such as alcohol and tobacco would need to be declared from January.
Importers of "standard" goods, which includes construction products, have been asked to prepare for basic customs requirements like keeping records of imported goods, but will have up to six months to complete their customs declarations.
From July this year, all traders importing goods from the EU will have to make full safety and security declarations at the border and pay relevant tariffs.
Head of policy and research at the National Federation of Builders James Butcher, who is chair of the Construction Leadership Council's Brexit working group, said that "little has actually changed for construction products and materials" so far but that businesses "should remain vigilant to the possibility of disrupted supply chains later in the year".
He added: "As we see an increase in traffic through the border, and the imposition of declarations on construction products at point of import from July, things will inevitably get tougher and the risk of further disruption will heighten.
"Businesses should stay alert to the timetable of controls, while things are going well at the moment, we are not out of the woods yet".
The EU has not put in place parallel arrangements for imports from the UK, meaning that exporters have had to abide by the EU's Customs Union rules from 1 January.
The post-Brexit free trade agreement between the UK and the EU was agreed last month and announced on Christmas Eve.
Last week, the government said it would allow architects trained in the EU to continue working in the UK without the need for additional qualifications under the new trading arrangements.
But UK-trained architects will lose automatic access to work in the EU and Switzerland previously granted under the EU's Mutual Recognition of Professional Qualifications.
The UK government said that meant individuals with UK qualifications seeking to offer services in the EU or Switzerland will now have to rely on individual national policies of the country they are aiming to work in.