Firms doubling down on enforcing strict site protocols as government orders sites to stay open
Major contractors are warning that keeping sites open in the coming weeks might not be as straightforward as previous lockdowns.
On Monday evening, Boris Johnson put England into another national lockdown – the third in just over nine months – to deal with the emergence of a new variant of covid-19 which the government's scientists have found to be 50% to 70% more infectious. Construction was again spared the prime minister's stay-at-home order with sites told to carry on working.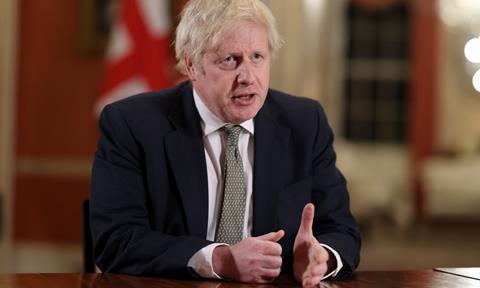 But several firms contacted by Building Design's sister title Building pointed out that it comes as cases are higher than during the first lockdown in March last year - when some sites did close.
One firm, who asked to remain anonymous, said: "The last time caseloads were this high, sites were shut. We have very strict protocols in place but it wouldn't take many big sites in London to fall over [with covid outbreaks] for construction to be accused of not managing things properly and for us to be in the headlines. We are being extra vigilant."
Sites are still operating under the existing 1m-plus rule on social distancing but one firm said bringing in tougher 2m-plus measures would see productivity hit.
"Every contractor has worked very hard in the past year to get back up to capacity. If the 1m-plus rule gets changed, that will hit us."
Firms have said they are rotating teams and making sure not all critical staff are on site at the same time in case a job is struck down by a covid outbreak.
Last month, Bam's £100m Atlantic Square office job in Glasgow, part of which has been pre-let to HMRC, was forced to shut after an outbreak among the job's 300-strong workforce escalated from less than 10 to close to 70 in just under a week.
Contractors, and architects, are also grappling with staff having to juggle childcare issues after all primary and secondary schools were shut down following Johnson's Monday night announcement.
One said: "Last time, there was furlough, parental leave and getting people to take holidays by certain dates to help us cope. It's not like that anymore. Our workforce isn't classified as key workers and they don't get to send their kids to school."
According to the government's definition, key workers include a range of jobs from healthcare and education staff, supermarket workers and binmen. Any construction workers defined by the criteria is limited to "those constructing or supporting the operation of critical transport and border infrastructure through which supply chains pass".
It also comes as architects and contractors are getting to grips with the fall-out from Britain's departure from the EU and the implications of Boris Johnson's "thin" Brexit deal. Last month Hugh McEwen, director of Office S&M, told Building Design: "Good small contractors are leaving the country. The foreman on one of our jobs went back to Romania so they're going to dissolve that company and we will have to sign a contract with a new contractor which will delay the job a bit. That kind of thing has happened on a couple of teams we're working with."
Government figures released on Monday showed there were 26,626 covid patients in hospital in England, up 30% on a week earlier. The peak of admissions in the first wave was 18,374 on 12 April but the country is now 40% above that level.
And NHS England figures released yesterday showed that the number of daily hospital admissions of people with covid-19 hit 3,351 on 3 January, a rise of nearly 17% in a week, and beating the previous record of 3,099 recorded on 1 April last year.