New stand will take capacity to 26,700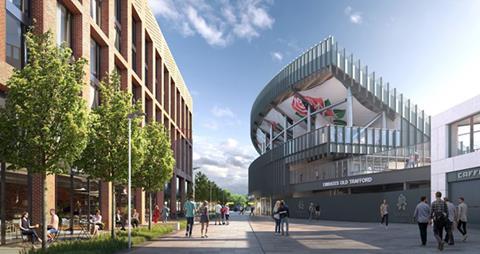 Lancashire county cricket club's plans for a new BDP-designed redevelopment at its Emirates Old Trafford ground in Manchester are set to get the green light.
The scheme has been recommended for approval at Trafford planning committee's meeting next Thursday.
The project will replace the stadium's Red Rose Suite with a 4,850-seat stand that will take the capacity of the ground from 26,000 to 26,700 and include a heritage centre and a shop.
There will also be a 3,900ft2 ticket office on the ground floor and a 4,000ft2 members' suite on the upper floors.
In addition to the grandstand, the application also details plans to extend the ground floor and first floor of the existing Hilton Garden Inn hotel, which opened in October 2017.
Club chairman David Hodgkiss has previously said that the new stand would "complete the redevelopment" of the ground, which so far has cost around £61m.
No price has yet been revealed for the cost of the new stand.