Proposals follow reassurances over threatened site
Millwall has revealed the designs for its new stadium after securing the land in an agreement with Lewisham council.
Designed by AFL Architects, which was appointed to the project last year, the new stadium will increase capacity to 34,000 and include a new public plaza, retail and commercial spaces and residential developments.
The mid-table championship club's stadium, known as "The Den," had been threatened by a land sale agreement which allowed the freeholds of the land which the stadium occupies to be sold to a property developer.
Lewisham's mayor has since ruled against the former agreement, though the plans are still dependent on a new lease approval from Lewisham council before they can proceed.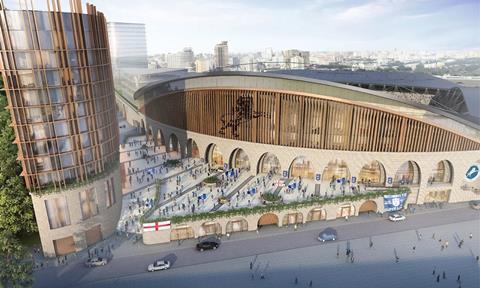 Bruce Caldwell, senior associate of AFL Architects, said: "This news is the best of all possible outcomes. Not only does the club have a clear plan for its future growth that retains its unique brand, but the wider community will reap the benefits."
The stadium's design reflects the industrial character of the surrounding landscape, with the extensive brickwork arches surrounding the stadium base inspired by black-and-white photos of the club's former home next to the railway viaducts on the Isle of Dogs.