New images of 52,000-seater stadium released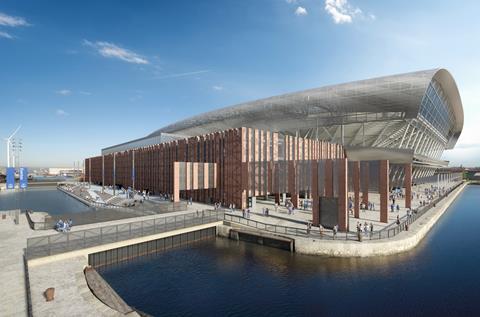 New images have been released of Everton football club's proposed 52,000-seater stadium, which was submitted for planning today.
The Premier League club's new ground, to be built on Bramley-Moore dock as part of Peel Waters' £5.5bn plans to regenerate Liverpool's waterfront, was designed by US firm Dan Meis and London-based practice Pattern Design.
Everton, which appointed former Chelsea and Real Madrid manager Carlo Ancelotti as head coach at the weekend, said the design of both north and south stand lower tiers "will make it easy to adopt rail seating and, should legislation change in the future, they could also be converted into areas for safe standing".
A detailed stadium application was submitted to Liverpool council today, followed by a separate outline planning application for a community-led legacy project at the club's Goodison Park ground, which it plans to redevelop once the move to the new stadium is completed.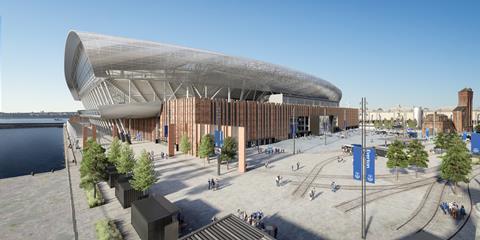 The Goodison plans are for up to 48 houses and 160 apartments to be built in towers of up to nine storeys, as well as offices, shops, healthcare and education facilities and additional homes for supported living.