UCL apologises for "deeply shocking" behaviour including allegations of racism, bullying and sexism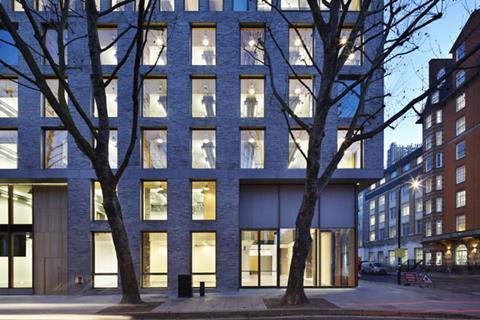 University College London has removed a number of Bartlett School of Architecture staff from student-facing duties after uncovering allegations of bullying, racism and sexual misconduct spanning decades.
The university has apologised for a "culture of unacceptable behaviour" following the publication of a report commissioned in October last year after complaints by former students.
The 120-page report, carried out by intelligence firm Howlett Brown, includes testimonies from more than 300 respondents and describes a "toxic culture" led by a circle of staff which was alleged to have created a "boys' club" at the architecture school.
One former student told the investigation that she had been raped by another student on their course, but had not shared this with staff as they were "not sure that there was a network in place". Howlett Brown said the impact of not having fully trained staff members had a "silencing effect" and led to the victim experiencing PTSD, anxiety and depression for which they are still requiring therapy.
UCL said the behaviour highlighted in the report "comes against the context of longstanding problems with the culture of the architecture sector more widely", adding that it had invited other practising architects and educational institutions to tackle similar problems.
One "senior leader" at the BSA was spotlighted in 27 instances alleging "serious misconduct involving bullying, misogyinistic and anti-Semitic behaviour". The individual was said to have protected other members of staff by deleting complaints and "normalising bad behaviour".
Another staff member, a senior tutor, was reported nine times to the investigation for alleged bullying, sexist and racist remarks, particularly towards Chinese students, and physical violence in the form of throwing materials at and near students.
One former student informed the investigation that, after telling a tutor that someone had attempted to sexually assault her, she had been told that she had "got the golden boys in trouble" and had been asked what her "issue" was since she and the person she had been complaining about "looked good together".
A professor to whom she later brought the complaint implied that she had encouraged the unwanted advances because the way that she dressed was "flirty".
The report found that 34% of respondents had witnessed or heard of staff abusing their authority, which included engaging in intimate relationships with students. One current staff member said that, when they were interviewing with the BSA, there was a "weird boys' club" who had been dating students. Another staff member alleged it was "common knowledge that two [junior members of staff] had stayed out with the students and slept with one of the students".
UCL president and provost Michael Spence said he was deeply shocked by the experiences of students and staff shared in the investigation and said that something had "gone terribly wrong".
"Their testimonies expose an inexcusable and pernicious underbelly of bullying and other unacceptable behaviour that is completely at odds with the values on which UCL was founded," he said, adding: "We must and absolutely will address that swiftly and robustly."
Spence apologised to "everyone who has suffered" at the BSA and said the school had a "long way to go to rebuild trust".
Christoph Lindner, dean of the Bartlett's Faculty of the Built Environment, said he was "truly sorry" that staff and students had been subjected to "unforgivable incidents" during their time at the school.
He added: "We know this is a moment of change for the BSA, as well as for the architecture sector as a whole, which has also been struggling to address workplace cultures and behaviour.
"It's time for us to have some difficult conversations about how we disrupt existing structures of privilege and power, making space and opportunities for those who have previously been marginalised."
The university will now carry out further investigations in the absence of the staff members who have been removed, and who cannot be named as it could prejudice the investigations.
UCL vice-provost Anthony Smith said a review of the unit selection and crit process - which had been identified as a significant source of "upset and fear" for students - has been launched ahead of the next academic year to ensure that they are made "fully equitable and inclusive".
He added that a working group with staff and student representation had been set up to take forward the report's recommendations, which include creating a "safer, supportive and more positive culture for students and staff".
The university is encouraging former and current students and staff to come forward and share their experiences using its online report and support tool, or through its helplines.
Individuals who have been impacted by the findings of the report are also being encouraged to access UCL's free, confidential counselling services.