Stirling Prize nominees call for structural timber to be excluded, while RIBA argues for more buildings to be covered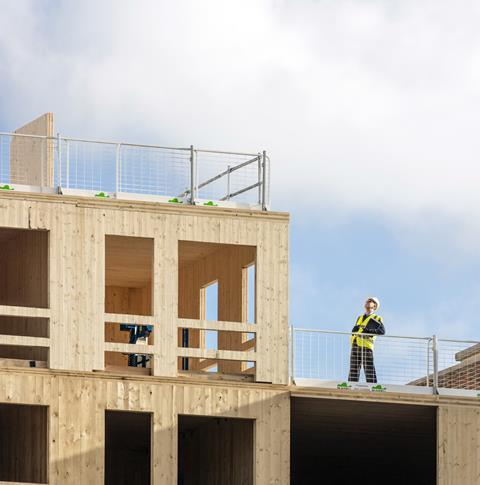 The ban on combustible materials should be extended to more buildings – but it should not include the primary structure, the RIBA has told ministers.
Hotels and hostels should be covered by restrictions that were introduced in 2018 after the Grenfell fire.
The ban should also be extended on a precautionary basis to all relevant buildings over 11m pending further research to determine the appropriate height threshold.
The institute was responding yesterday to the government's review of these restrictions which relate to combustible materials in and on the external walls of buildings.
Architects who specialise in cross-laminated timber (CLT) have been vocal about the danger that the restrictions could spell the end of a material with significant carbon benefits. (See box)
The RIBA said further research into the use of all structural timber in external walls, including CLT, should be undertaken to determine its performance when subject to real fire loads.
This political knee-jerk reaction is uninformed and counter-productive

Alex de Rijke, dRMM
Jane Duncan, chair of the RIBA's expert advisory group for fire safety, said the restriction in its current form had caused confusion in the industry.
"The government must provide clear guidance, and fund research, to enable the construction of safe buildings while ensuring innovation can still take place to combat the climate crisis," she said.
"Almost three years on from the Grenfell Tower tragedy, hotels, hostels, boarding houses and other buildings with multiple and even vulnerable occupants are still being built using combustible materials on their external walls.
"Fires do not discriminate between building types or users, yet our regulations do. The restriction on combustible materials must be extended as a matter of urgency to keep people safe."
At the same time they should apply to key materials in external walls only, she said.
"If not, the list of materials exempt from the ban must be clarified and should include all materials that do not contribute to the spread of fire across external walls," she said.
The RIBA believes that in external wall construction the ban should only restrict plasterboard, sheathing boards, insulation, outermost cladding materials and significant materials in balconies, brise soleil and similar building elements to European classification A2-s1, d0 or A1.
The ban should not include a building's primary structure, it said. Instead this should have adequate fire protection as set out in Building Regulations requirement B3 and when included in the external wall should still meet requirement B4.
The RIBA recommend that if the MHCLG will not alter the ban to include only these materials, then it should provide clarity on the list of materials that are exempt from the ban and should include additional materials that do not significantly increase the potential fire load of external walls. The full RIBA response includes recommendations for additional materials and systems that it argues should be included in the exemptions list.
Stirling Prize nominees urge architects to oppose ban on engineered timber
Meanwhile, the Architects' Climate Action Network (ACAN) and architects who specialise in engineered timber are urgently campaigning for a rethink.
They are calling on architects to respond to the government's consultation on the combustibles ban which closes on Monday night.
ACAN said there is a significant risk that the current document, if approved, will "greatly increase the perceived risk of building with timber structures despite a significant amount of research around the safety of engineered timber systems such as glue-laminated timber and cross-laminated timber".
Anthony Thistleton and Andrew Waugh, founders of Stirling-shortlisted Waugh Thistleton Architects, said: "The UK is a world leader in the development of engineered timber construction with over 500 buildings completed.
"As the government acknowledges, this change in regulations will have an impact on the continued innovation and development of low-carbon construction, and hence on the rate at which the construction industry can tackle climate change."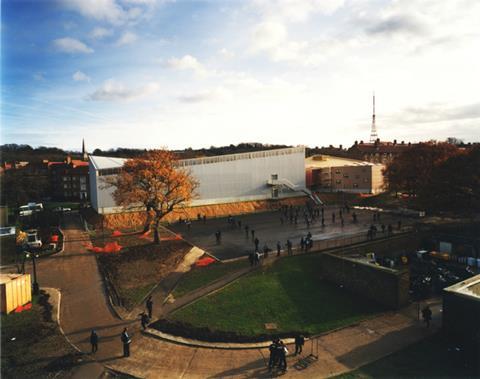 They were backed by Alex de Rijke, co-founder of Stirling Prize-winning dRMM which was architect of the UK's first CLT public building in 2004 – the government-funded Kingsdale School in south-east London.
He said: "We had to present the European material to central government, local authority and fire brigade. All were convinced then and now by the evidence that, when properly sized and detailed, CLT is not only safe in a fire, but safer than many other standard industry materials such as steel – ironically the default material for buildings over 18 metres.
"This political knee-jerk reaction is uninformed and counter-productive. Banning safe timber construction prevents the creation of healthy and safe cities and worsens the global environmental crisis of carbon emissions due to use of materials like concrete and steel."
For details of how to take part in the consultation visit the ACAN website: https://www.architectscan.org/safe-timber