Weston Williamson and Pascal & Watson among winning practices
Four architects are among 14 consultants to be handed a place on Manchester Airport Group's £72m professional services framework.
The company, which runs Manchester, East Midlands and Stansted airports, has confirmed the details of its three-year framework, which is set to be worth up to £24m a year.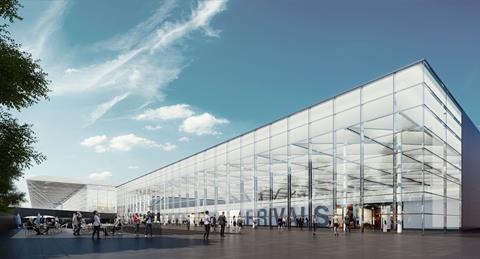 AHR Architects, Pascall & Watson and Weston Williamson were chosen to carry out architecture services required at Stansted.
The first two have been joined by Strzala Architects on the lot for work required at Manchester and East Midlands airports.
While the contract award will be welcomed there are concerns about the group's capital programme in the wake of the covid-19 pandemic.
The fate of a £600m revamp of Stansted, which included the construction of a £150m arrivals terminal, is up in the air
Mace was appointed to the contract, originally expected to cost £130m, early last year and was expected to hand over the new terminal later this year.
The plan involves turning the existing Norman Foster-designed terminal into a departures-only facility.
But in December MAG admitted the scheme will miss this year's deadline and said: "We are currently reviewing the original transformation programme proposals and design options."
It added: "We are currently looking at further design options and in particular the final design of the arrivals terminal building, to ensure that all our planned infrastructure will not only be available when we all need it most but also that it will be suitably 'future-proofed' and allows us to respond to fluctuating travel, social and economic trends."
The firm had confirmed that Bryden Wood had been brought in to run the rule over the plan, which the owner confirmed was on hold while it reviews the scheme.
Building Design revealed the multi-disciplinary firm was asked to work on a revised plan for a £150m arrivals building (pictured) which was drawn up by transport specialist Pascall & Watson, one of the framework winners.
MAG has not provided any subsequent update on the fate of the scheme, but another airport, Birmingham, has recently confirmed that the coronavirus crisis has grounded its plans for a £500m expansion. And last month Heathrow's chief executive John Holland-Kaye told MPs on the transport select committee that coronavirus could have delayed the need for its third runway by more than a decade.
Lot
Services
Locations
Firms

1

Project management services

Manchester & East Midlands Airports

Capita
Lendlease
Mace
Turner & Townsend

2

Multidisciplinary engineering services

Manchester & East Midlands Airports

Aecom
Arcadis
Costain
Jacobs
Mott MacDonald

3

Airport advisory services

Manchester & East Midlands Airports

Atkins
Jacobs
Mott MacDonald

4

Architectural services

Manchester & East Midlands Airports

AHR Architects
Pascall & Watson
Strzala Architects

5

Project management services

Stansted Airport

Aecom
Lendlease
Mace
Turner & Townsend

6

Multidisciplinary engineering services

Stansted Airport

Aecom
Arcadis
Costain
Jacobs
Mott MacDonald

7

Airport advisory services

Stansted Airport

Atkins
Jacobs
Mott MacDonald

8

Architectural services

Stansted Airport

AHR Architects
Pascall & Watson
Weston Williamson & Partners