Architect's 38-storey Vancouver regeneration scheme clears key planning hurdles
Alison Brooks Architects has been given the go-ahead to deliver its biggest project yet.
The residential-led mixed-use development in Vancouver includes a 38-storey tower as well as mansion-block and point-block elements.
The practice's The Passages scheme, earmarked for the Canadian city's Surrey district, will deliver 90,000sq m of new space – including 1,126 homes, 2,700sq m of amenity space, and 1,683sq m of retail and commercial space.
Brooks said Surrey city centre had a desire to create a high-density, transport-oriented and walkable downtown core to address "critical housing need", and that the character of tall buildings and how they merged to form a beautiful skyline with "humane and diverse streetscapes" had been a key design driver.
"The proposal for The Passages on Whalley Boulevard is for an open city block, with free-flowing public space at its heart, lined by a mix of uses which aim to serve its residents and the wider city of Surrey," the practice said.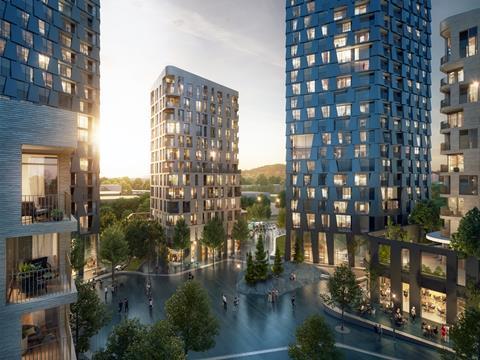 "The Passages proposes buildings without a front or back; all façades are on display and active, serving as extensions of the public realm.
"There is an opportunity to create an exceptional urban condition by focusing on freedom of movement and public space accessed by a series of passages, leading you to an open piazza at its centre."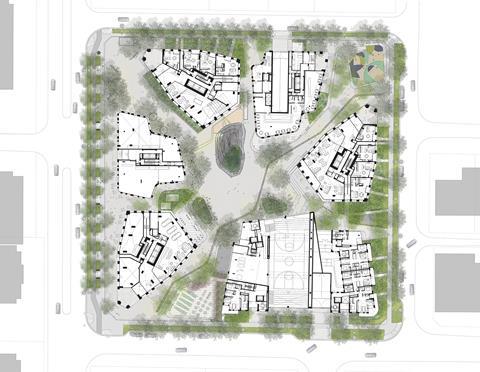 Brooks said the approach was unusual in North America, where city blocks tended to be enclosed and dense.
"The urban design has chosen to focus on a scheme with an activated heart, bringing movement through the site and offering a wide range of activities for residents and neighbours to use and enjoy," the practice said.