But campaigners threaten to appeal to secretary of state if council gives final sign-off at meeting today
A campaign group has threatened to appeal to the government if AHMM's £1bn pharma centre in King's Cross is approved by Camden council at a meeting today.
Heritage group Save Bloomsbury has said it will write to the secretary of state if proposals for the research and development centre, which would become the new UK headquarters of global healthcare giant MSD, are given the final sign-off.
Developer Precis Group's 10-storey building, which would be built on a site opposite St Pancras Station, has been recommended for approval.
But the scheme, which has been billed as a "a world-leading, state-of-the-art laboratory to discover new medicines to treat diseases", has provoked the ire of Save Bloomsbury for including laboratories on only three of its floors, leading to accusations that the medical R&D narrative was "ploy" to win planning for an office block.
According to the planning officer's report, the building's fourth floor will contain a "collaborative space," while floors 5-9 will house offices.
The report also describes how the three laboratory floors, which have increased ceiling heights and are serviced by ventilation units to create a controlled laboratory environment, can be converted to offices or other uses if needed.
Despite the laboratory floors containing a much larger floor space than the upper levels, Save Bloomsbury campaigner Owen Ward claimed that the scheme is merely a "10-storey office block".
He added: "It seems that the entire pandemic has skilfully been used as a ploy to both lock out community involvement and market a useless bulk as something necessary to both London and the world."
But Precis Group has hit back at the objections, telling Building Design that the laboratories make up around 40% of the building's total floorspace.
A spokesperson for the developer said: "We can confirm that these will be operational and in use by the tenant MSD from day one with the main laboratory space facing on to the King's Cross Square, giving passers-by sight of the activities inside and insight into the building's low-carbon design."
The spokesperson added: "We are also proposing associated office, research and 'write-up' space at levels four to nine.
"It is standard practice for buildings of this type to include a mix of laboratory and office space to allow for businesses focusing on life sciences to undertake their important work effectively.
"These proposals meet the needs of MSD for their London Discovery Centre and UK headquarters to accommodate approximately 850 employees, of which around 150 would be laboratory-based research scientists."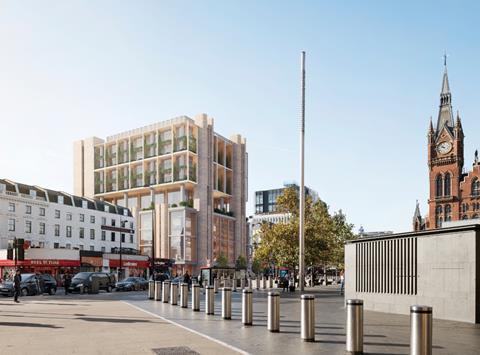 It is understood that MSD, which is known as Merck outside Europe, is the only tenant of the building.
The site, which is currently occupied by a low-rise art deco building on Euston Road called Belgrove House, is within London's 'Knowledge Quarter' and close to the Francis Crick biomedical research institute designed by PLP and HOK.
Precis Group, which owns the site, is also planning to replace the National Union of Journalists' former headquarters Acorn House, a nearby 1960s office block on Gray's Inn Road, with a nine-storey mixed-use block also designed by AHMM. It will contain 33 affordable homes and 500sq m of office space.
AHMM has been approached for comment.