Proposals retain Edwardian facades but demolish most of the rest of buildings
AHMM has drawn up proposals to redevelop an eight-building run on London's Oxford Street with a scheme behind that extends as far south as Soho Square.
Its vision, for King Sloane Properties and Element Capital, would deliver a new eight-storey building with two basements and a roof pavilion at the Soho Square end. It would boost the quantity of floorspace by 65% to give a gross internal area of 12,192sq m. The lower floors of the new structure would be for retail use, while its upper storeys – save for its plant space and roof terrace, would be for office use.
AHMM, which is behind the nearby Soho Place development, is proposing to retain the facades of five early 20th-century shops between 29 and 39 Oxford Street – and a more substantial part of No 35, which is grade II-listed and was built in 1909 to a design by Gilbert and Constanduros.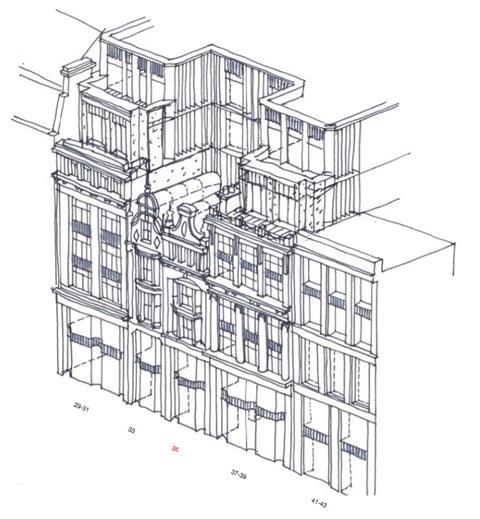 Shops at 41 and 43 Oxford Street would be demolished to make way for the new structure, as would Nos 17-19 Soho Square.
In documents supporting the planning application, the practice said its clients had spent the past decade assembling a "disparate set of buildings" into single ownership, and that the project would retain historic facades that were currently poorly maintained. AHMM said the scheme would also remove an existing yard at the centre of the site – Falconberg Mews, which it said was a focus for antisocial behaviour.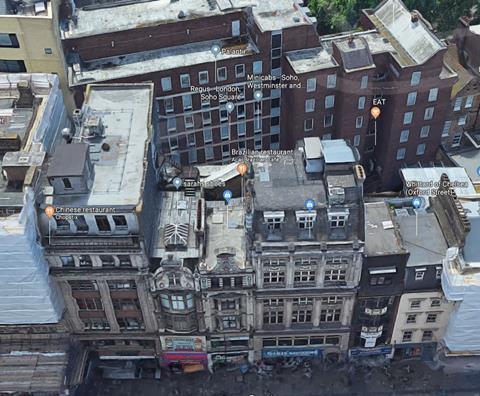 The scheme is the latest in a list of Oxford Street redevelopment proposals to be lodged with Westminster council. Earlier this month Selfridges-backed proposals for the western end of the shopping Mecca, drawn up by Grafton Architects, were submitted to the authority.
January saw the approval of Lifschutz Davidson Sandilands' proposals to redevelop a block of Oxford Street between Berwick Street and Wardour Street, preserving parts of a grade II-listed structure and the façade of another locally listed building of merit – despite opposition from the Victorian Society.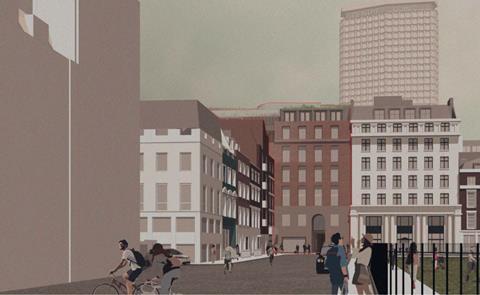 The campaign group has become increasingly concerned over the impact of redevelopment on Oxford Street – not only on historic shopfronts that give the street its character, but also on the impact of new schemes on the conservation areas that the thoroughfare connects.
Westminster council has indicated that it expects to determine the application by the end of May.