Practice creates new look for store-owned neighbouring shops and offices block
Grafton Architects has been appointed to extend and remodel a 1950s block of shops and offices owned by the Selfridges Group across the road from its flagship London department store.
The practice's proposals for 388-396 Oxford Street would see the current seven-storey building completely reclad with the addition of an extra level in the process.
Documents supporting the application described the project as part of Selfridges' commitment to enhancing the setting of the immediate surroundings of its main store – and cited David Chipperfield Architects' new Duke Street entrance as an example of the high standards it demanded.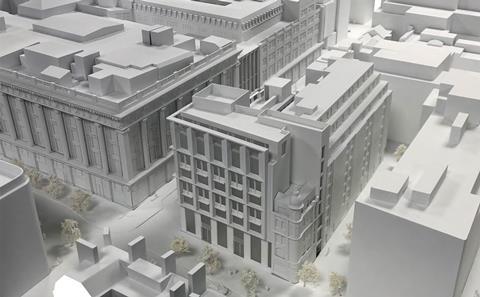 Grafton's scheme for 388-396 Oxford Street would boost the building's office space from 2,242sq m to 3,888sq m, measured by gross external area. Its retail space would decrease from 2,340sq m to 2,116sq m.
The plans would also deliver a terrace at the building's fifth floor and a reconfigured entrance to the offices, accessed from Bird Street.
Grafton's design and access statement for the project said the current building on the site dated back to the late 1950s and had been constructed from a plot brought together from six buildings in Duke Street and four buildings on Oxford Street that had been extensively bomb-damaged in the Second World War.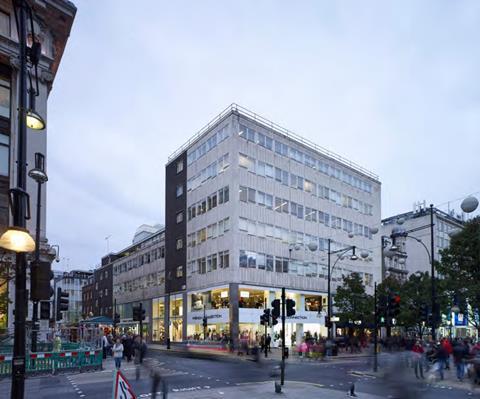 Grafton said the current building had not been designed to relate to the department store, which is now grade II-listed.
"There is now an opportunity for the first time to create a building that would establish a clear relationship to the Selfridges building, that would complement the façade and improve the setting of this grade II-listed building," it said.
Supporting documents said that while neither the shop building immediately west of 388-396 Oxford Street nor the pub to its north were nationally or locally listed, they were both capable of being considered "non-designated heritage assets".
Residents of an adjoining apartment building, named The Phoenix, are opposing the Grafton plans, on grounds that include loss of light and increased noise from the the terrace and relocated services.