Groce was shot in her home by police in front of her children in 1985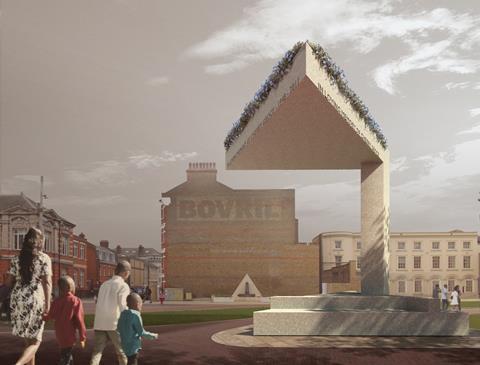 Adjaye Associates has unveiled its design for a memorial to Cherry Groce, whose shooting by the Metropolitan Police in her home sparked the 1985 Brixton riots.
Groce, who was shot in front of her children and paralysed from the waist down as a result of her injuries, died in 2011.
The memorial in Brixton's Windrush Square consists of a single column supporting a triangular roof planted with flowers.
Adjaye Associates said the column speaks for Groce's strength and support for her community, while the roof represents protection and shelter for the people of Brixton.
Benches built into the base of the memorial invite visitors to take a seat and reflect on Groce's life and the struggle of West Indian migrants who settled in the Brixton area in the post-war period.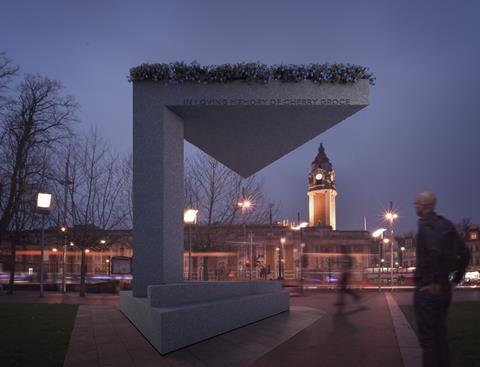 Cherry's son, Lee Lawrence, said: "Not only will this memorial acknowledge the terrible injustice to my mum Cherry Groce but it will also act as a beacon of hope."
He added: "It will symbolise that lessons can be learnt and, more importantly, applied to create the positive change we need for the benefit of us all."
David Adjaye, who was born in Tanzania to Ghanaian parents before moving to the UK in 1970s, said: "The construction of this memorial will speak to restorative justice and will symbolise that what matters to the community matters to London and the whole world.
"This tragedy went too long in the public realm without acknowledgement and there is now renewed urgency and importance in finally facing this history."
Windrush Square, formerly known as Tate Gardens, was renamed in 1998 to mark the 50th anniversary of the arrival of the Empire Windrush, the passenger ship which brought the first large group of West Indian migrants to British shores in 1948.