Council says government-backed scheme is too big for Victoria Tower Gardens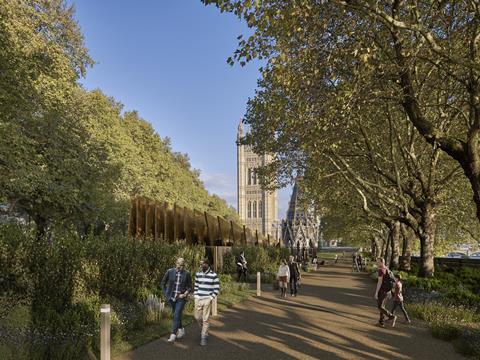 Westminster councillors have voted to oppose David Adjaye's National Holocaust Memorial and Learning Centre, earmarked for Victoria Tower Gardens – next to the Palace of Westminster.
The controversial scheme has been reworked several times in a bid to minimise its impact on the gardens and the wider Westminster Unesco World Heritage Site. In November decision-making powers on the project were taken away from the city council when the project was "called in" for minsterial approval.
At a planning committee last night, councillors formally agreed to oppose the scheme at a public inquiry that will inform the government's decision on whether to proceed with the scheme.
They were following advice from city council planning officers who said the proposals would harm the World Heritage Site – which also includes Westminster Abbey and St Margaret's Church – in a way that was "considered not to be outweighed by the public benefits".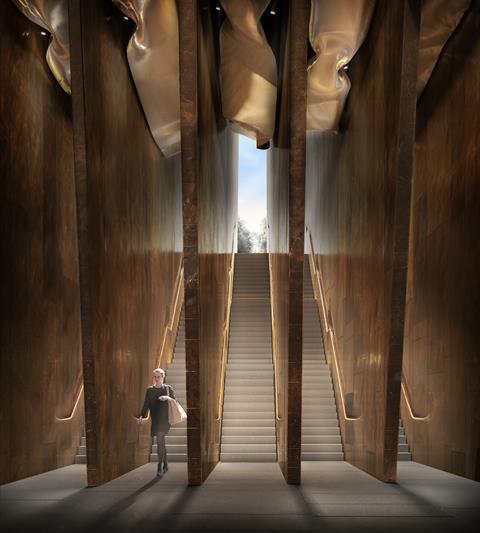 Councillors agreed that the memorial and learning centre contravened planning rules on size, design and location, but they put on record their support for the principle of a memorial and learning centre in central London.
Planning committee chair Robert Rigby said his panel understood the importance of commemorating the millions of lives lost in the Holocaust and educating future generations to prevent a repeat of the genocide.
"We absolutely understand the emotion and the depth of feeling that this issue engenders, and we think it is right that the secretary of state will make the final decision on this application," he said.
"We will put our own and our residents' views to him as part of the public inquiry that will inform their final decision.
"However, if it were Westminster city council taking a decision on the application, it would have been refused on heritage grounds; the location in Victoria Tower Gardens, its size and design would cause considerable harm and would have a significant, detrimental impact on one of the few remaining green spaces on the Thames Embankment.
"We would have very likely accepted a proposal of much smaller scale in that park. But the issue is now in the secretary of state's hands to make the final decision and we will share the findings of the planning committee with him through the public inquiry."
Adjaye and Ron Arad won a design competition for the memorial in 2017, beating fellow shortlisters John McAslan, Foster & Partners, Studio Libeskind, Zaha Hadid Architects and Caruso St John, Allied Works, David Morley and Lahdelma & Mahlamäki Architects.