International Council on Monuments and Sites calls for project to go back to the drawing board
David Adjaye and Ron Arad's proposals for a Holocaust Memorial next to the Houses of Parliament should be junked because of their impact on the Unesco World Heritage Site, a key advisory body has said.
The UK branch of Icomos – Unesco's International Council on Monuments and Sites – has said the memorial, earmarked for Victoria Tower Gardens, would cause "substantial harm" to the green space and to its contribution to the World Heritage Site.
Adjaye and Arad were selected for the project following a design competition in 2017, and their proposals were submitted to Westminster council for planning last month following tweaks that resulted from earlier rounds of consultation.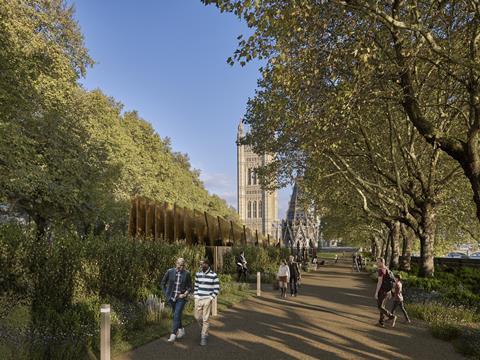 But in a letter to the council, Icomos-UK chair Peter Marsden called on planners to reject the application and urged the memorial's backers to seek a new location for the national memorial.
"Just as the WHS needs a setting to allow a full understanding of its value so, too, in our view, does a memorial to the Holocaust, in order to ensure there is space for quiet contemplation, not confused with other uses and messages," Marsden said.
"Such a space of reflection could not be achieved for a memorial squeezed into the confines of Victoria Tower Gardens.
"For both these reasons, we urge the planning committee not to support this application. Such a decision could pave the way for open and inclusive discussions on where a national memorial to the Holocaust might be sited that would enable it both to prompt memories and inspire profound reflections, away from the setting of the Westminster WHS which deserves the highest protection that can be afforded."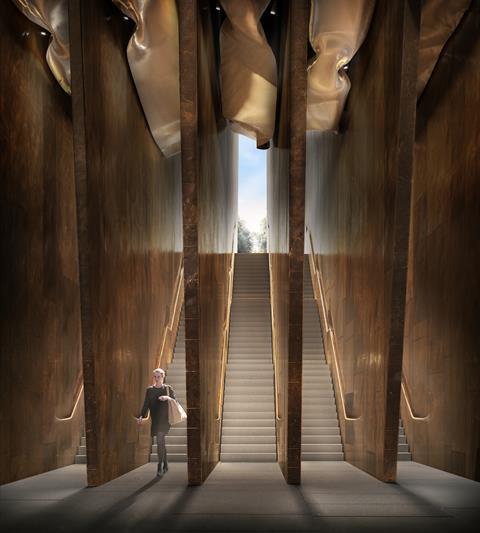 So far the memorial proposals have attracted concerns from The Royal Parks and archaeology specialists at Historic England.
Architect Barbara Weiss, who is a co-founder of the Save Victoria Tower Gardens campaign, said that an earlier admission by Adjaye that his design for the Holocaust Memorial intended to "disrupt" the experience of being in a park had been revealing.
"This extraordinary gaffe showed that undermining the tranquillity and beauty of this park is integral to the design concept of the centre," she said.
"It is therefore no surprise that so many official bodies are raising profound concerns about placing such a deliberately disruptive design in this location."
Westminster is targeting an April determination for the proposals.