Development by former Manchester United players has been widely criticised by heritage bodies
The developer behind the controversial Manchester towers drawn up by Make has said proposals by replacement architect Hodder & Partners stand a better chance of being liked.
Make confirmed it had pulled out the scheme earlier this week with the practice of former RIBA president Stephen Hodder being drafted in to replace Ken Shuttleworth's firm.
The St Michael's development, formerly known as Jackson's Row, is backed by Manchester United stars turned property developers Ryan Giggs and Gary Neville.
In a statement announcing Hodder's appointment, the developer admitted it had been stung by criticism of the plans which have been widely condemned by a string of heritage bodies.
St Michael's said Hodder's involvement has "led us to a different philosophy which we believe will command a greater level of support".
Hodder (pictured) was brought in three months ago "to contribute design ideas" after the Make scheme, which proposes to erect two blocks, 21 and 31 storeys high, drew a welter of criticism from groups including Historic England.
Catherine Dewar, the government advisory body's planning director for the north-west, condemned the plans and said they "would affect some of Manchester's most precious heritage" and "erase different layers of this area's history, irreparably damaging the special character of the surrounding conservation area".
In its statement, the developer said: "In the light of the overall response to the first proposal, it was clear a different design approach was required. We reflected whether the original solution met the overall objectives for the site and Stephen Hodder was brought in as part of that challenge process. This led to an extensive review of the approach."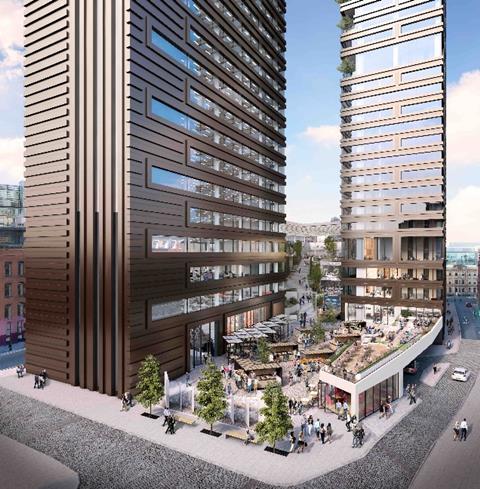 Hodder admitted he was "surprised" by Make's decision to pull out of the scheme just days before a presentation of a new strategy to Historic England.
He said: "I was surprised…we have established a very good working relationship with them [Make]. This scheme poses many challenges and, given the momentum that the project has, we're at a key moment so, yes, it came as a surprise."
And he added: "We are in a challenging position…the challenge is not only to genuinely address the concerns that have been articulated but also to meet Gary Neville's and the city's huge ambitions for the site."
Hodder said he met with Historic England earlier this week to present a new way forward for the city centre scheme.
In a statement, Make founder Ken Shuttleworth said: "We've been totally committed to the evolution of the scheme and have continued to work on revised proposals but we feel that the current direction does not align with our ambition for the site and it is right to step aside."
Construction work is set to be carried out by Chinese contractor Beijing Construction Engineering Group International.