In an exclusive interview with Building Design, Muyiwa Oki explains why he is standing to be the next RIBA president and what he plans to change
There has been more than the usual excitement about this year's RIBA presidential elections. You could even go so far as to call it a "buzz" - a noteworthy feat for a poll which struggles to attract a turnout of more than 15% of members.
Maybe something is in the air, a sense that the time has come to stop complaining about the institution – a favourite pastime among architects – and actually start doing something about it.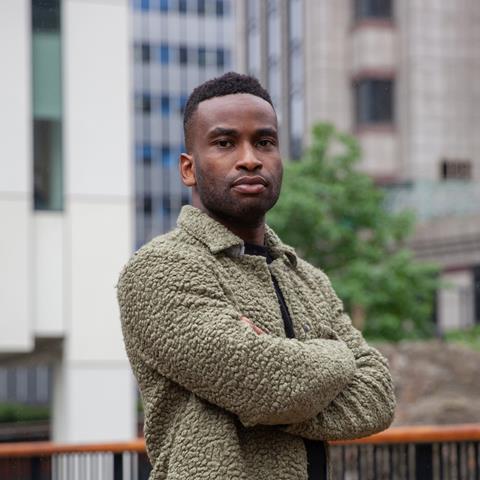 Or it could be because of the sudden appearance of a potential candidate whose name has been cropping up repeatedly at industry events and parties in London of late. Muyiwa Oki, a young, black salaried architect currently working for Mace, was unknown in the capital's architecture circles until a few months ago.
The 31-year-old has quickly become the sector's hot ticket and is being viewed by many – particularly students and young professionals – as a much-needed vehicle of change. He has even won the backing of former RIBA president Ben Derbyshire, who has said that a new cohort of diverse young voters galvanised by Oki would be "just the injection of lifeblood the institution needs".
>> Also read: Why I'm supporting Muyiwa Oki to be the next RIBA president
Building Design caught up with Oki last week ahead of the official announcement of the election's list of candidates, due later today. He had just returned from a trip to the US, where he said he had been "trying to be on holiday" but had spent much of his time "stressing" about his candidacy submission.
But he said that he was nevertheless feeling confident, partly because RIBA appeared to have accidentally revealed to him who he will be up against by copying the other candidates into an email.
His platform, which includes promoting more flexible routes into the profession, dialling up efforts to improve diversity, and turning the institution's focus away from "starchitects" and on to less represented members of the profession, will be "totally different" to his rivals, he says.
Oki's progressive agenda is giving him momentum among those members who have often felt ignored by the institution. This was turbo-charged last month when RIBA was accused by Oki supporters of attempting to sabotage his campaign by restricting the number of new members who could vote.
Voting rules were changed retrospectively so that members must have joined at least 10 days before the official notice of the election to be eligible. The Future Architects Front (FAF), a student group which is supporting Oki, described the move as "suspicious" and launched a complaint with the Charity Commission on the basis that it breached RIBA's rules on inclusivity.
>> Also read: What's going on at the RIBA?
Asked what he thought had happened, Oki was more generous, but only slightly. "I think it's just ineptitude," he said, though he added that criticisms of RIBA's transparency in its communications with members is an issue which "keeps cropping up".
A spokesperson for RIBA said the rule change had been under consideration for at least a year and had been introduced as part of an "ongoing process of updating the rules and improving our processes". But a perceived lack of transparency is just one of many things it has been firefighting recently.
In May, regional London director Dian Small caused a stir when she said in a LinkedIn post that she saw just two black people at the institution's regional awards ceremony, which was attended by around 400 people.
It prompted current president Simon Allford to publish a statement saying that practices "must take responsibility" to ensure the profession is more representative of society. This could be seen as a bit rich coming from a 188-year-old institution that has had just one non-white president, Sunand Prasad, and just a handful of female presidents.
Oki, who described the lack of diversity at the awards ceremony as "embarrassing", said that RIBA's efforts to tackle the issue feel like a "tick-box exercise". The institution could do "a lot more, a lot better", he says, adding that there needs to be a "little bit more awareness and heightened awareness".
He adds: "When you have an event, it is a touch point to talk to your membership. And it's a way to educate, it's a way to tell a story, it's a way to nurture and create a sense of belonging within your members."
Transparency and diversity issues are troubling for many RIBA members, but dissatisfaction with the institution goes deeper. Oki, who counts Grimshaw and Glenn Howells as former employers as well as smaller practices, says he has worked with a cross-section of the profession. "The perspective sort of swings from apathy, which is this sort of general indifference, to a deep frustration," he says.
"Generally people I've talked to say RIBA is not mandatory. I don't really get anything for it. I don't see the value in it. So therefore, I don't need it." The institution, he says, can do much better.
Oki was put forward as a runner in May by a collective of young architects, students and campaign groups, including the FAF. In an open letter, the collective said the next president needed to "represent the membership of the institution beyond empty slogans and self-serving initiatives".
It added that members need a president who "enacts positive, ethical and progressive change", someone who is "not afraid to join in with trade unions and protect our rights" and who will "break the cycle of mental health and labour extorsion, perpetuated in architectural education and practice".
Asked why he decided to run, Oki says: "There needs to be a mind-shift in the architecture profession. We need to energise ourselves and create a platform where under-represented members can be heard."
He says he thought he had a "clear idea about what should happen and can happen". Most of all, he says he did not want to be "that person who is always on the outside, chatting and complaining, looking in.
"There was this opportunity to actually do the things that I want. And I thought this opportunity might not come again, because there was this excitement and energy, an appetite for new ideas."
Oki says the RIBA has been resistant to change "because of the leadership", and because the leadership has been a "status symbol". He says the institution needs to get better at promoting all roles in the profession, as there currently exists an "internal snobbishness or elitism" which implies that only those who work in design practices count as architects.
"I want to champion the idea that you can do Part I, Part II, and do something else and that is a legitimate architect, and you can be part of the community and you can take your skills to the wider economy," he says. "And I don't think that story is taught at all."
He thinks part of this change should include new routes of entry into the profession - something which ARB is currently consulting on. At the moment, Oki says, there is an "element of luck" involved in qualifying as an architect because the duration of tuition means potential students will have needed to settle on their career route at too young an age.
While he had made this decision when he was 18 – though he had "swayed and doubted [himself] all the way through it" – others might not realise until too late that they wanted to get into the profession. He is in favour of US-style conversion courses so that people are not tied down by their undergrad degree.
"When you've experienced something different, you've experienced the world. And now you're coming in with a sort of energy to actually do the role of an architect."
The debate about the future of architects' training has been given a new urgency by the bombshell report into alleged abuses at the Bartlett. Investigators uncovered racism, anti-semitism and sexism at the UK's top-rated architecture school spanning decades.
I think it's very damaging. I thought I was challenged… I don't think anyone made me cry, or was abusive to me. Maybe we're just all learning a little bit more and growing up and figuring out…

Muyiwa Oki on reports about the Bartlett
The University College London apologised for "unacceptable" findings in the report and removed a number of Bartlett staff from student facing duties. The university added that it is "fiercely committed to lasting, root-and-branch change".
The Bartlett has been known for creating a challenging environment for its students, and some in the profession might have seen this culture as part of its appeal. But Oki, who studied at the University of Sheffield, says the report's findings are "eye-opening".
He adds: "I think it's very damaging. I thought I was challenged. I don't think anyone made me cry, or was abusive to me," he says. "Maybe we're just all learning a little bit more and growing up and figuring out… maybe that thing that happened, that we talked about, was actually abuse. I think we need to be aware of that and challenge it and root it out."
There is much more that Oki wants to do if he wins the election. He wants to put more of a spotlight on other architecture schools outside of the capital and hold more events in the regions to combat the view that the RIBA is too London-centric.
On the climate crisis, he wants the institution to get its members to move to start executing its carbon targets instead of issuing "commitments to attempt".
He does not know yet how many days a week he would work if he were to become the next RIBA president – Allford is said to do three – and Oki will need to discuss this with his employer. The job could potentially be a sabbatical, he says, with him returning to Mace after his two-year term.
But Oki is so different to former RIBA presidents that it is hard to predict where his tenure could catapult him. Voting opens on 28 June, with the results revealed on 2 August. Watch this space - this election, and Oki's candidature, could be the start of a radical change.