Bob Sheil resigns as Arb writes to school seeking assurances that regulations have not been breached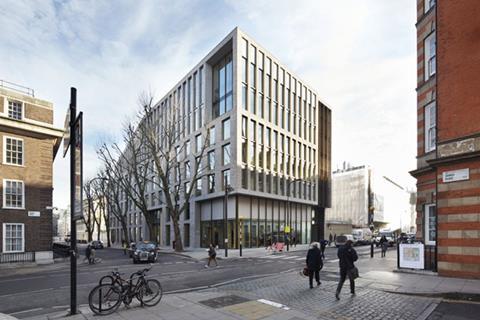 Bartlett director Bob Sheil has stepped down in response to a report which uncovered widespread bullying, racism and sexism at the UK's top rated architecture school.
Sheil "took a personal decision" to step down prior to the publication of the report last Thursday, University College London (UCL) said.
He had been due to leave his post at the end of this academic year ahead of US academic Amy Kulper starting her tenure in September. Sheil had held the role since 2014.
Construction management professor Jacqui Glass has been appointed interim director of the school, UCL said.
The university removed a number of Bartlett staff from student facing duties last week and apologised for the report's "unacceptable" findings, which it said had spanned decades.
More than 300 respondents gave testimonies to an investigation carried out by Howlett Brown, with one "senior leader" being reported 27 times for "serious misconduct involving bullying, misogynistic and anti-Semitic behaviour".
One former student told the investigation she had been raped by another student and was still dealing with PTSD, anxiety and depression.
RIBA president Simon Allford said the report had identified "extensive failings", and that all education providers should have mechanisms in place to eradicate unacceptable behaviour.
But he added that UCL's actions in response to the report would be "cold comfort to those who have suffered".
The Bartlett, like other schools of architecture, has a reputation for creating a tough learning environment for students.
Allford said: "Like other creative disciplines, architecture education relies upon critical appraisal of students' work, but this needs to be properly managed.
"All universities must regularly reflect on whether they have the right teaching and assessment methods in place and transparent and robust processes in place for students and staff to address any concerns."
Allford added that RIBA, which accredits the Bartlett, is "continuously reviewing our course monitoring and validation processes".
Meanwhile, ARB has written to the school seeking an urgent meeting so it can be "assured that necessary changes to culture will be made".
The regulator's chief executive Hugh Simpson said it wants discussions to also include "whether any of our regulatory requirements in relation to accreditation of courses have been breached, as well as the need for any architects employed by UCL to meet the Code of Conduct and Practice at all times."
As ARB requires institutions to ensure compliance with equality legislation, the regulator said it needs to be assured that students gaining qualifications from the Bartlett are "adequately educated to be able to join the Register of Architects".
Simpson, who described the findings of the investigation as "deeply concerning", said that cultural change at the Bartlett was needed in the longer term.
He added: "Professionalism and ethics need to be a fundamental part of our new regulatory framework for education, with clear standards for educational and training institutions as a requirement of accreditation.
"Many of the issues raised in the Bartlett's independent report go beyond culture in architectural education and training to much wider questions about professionalism and culture in the sector as a whole.
"Not only will professionalism and ethics sit at the heart of our review of education and training, but they will also be central to our policy development for CPD and the review of the Code of Conduct and Practice which will begin later this year."
UCL, in its statement following the report, said that the culture of bad behaviour at the school "comes against the context of longstanding problems with the culture of the architecture sector more widely".
The university added that it is "fiercely committed to lasting, root-and-branch change" and it had issued invitations to other institutions and to practising architects inviting them to tackle issues which had been highlighted in the Bartlett report.